This is the best LG Nexus 5 image we've seen yet
58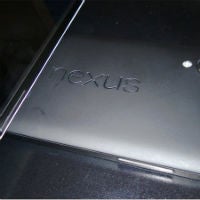 We're all pretty excited to see what Google has in store with the Nexus 5 (as it is assumed to be named), which is being built by LG and is based on the
LG G2
. We don't know a lot about the device for sure. We know it will be the premiere device for
Android 4.4 KitKat
, and from the leaked pics we've seen, it looks to have a fairly large camera lens (compared to any phone other than the Lumia 1020).
But, up until now, we've been working from low-res images, and
FCC
filing drawings to sort out what the device will look like. The leaks have been good enough to inspire a couple of unofficial
device
renders
, but we hadn't seen a really good quality image of the device itself, even when it was "
accidentally
" left in a bar a few days before the iPhone 5s launch. Now we have a new leaked image that is by far the best we've seen. Unfortunately, the image itself doesn't add much info to the mix.
The poster of the image claims that the backplate of the device feels similar to the new Nexus 7, says that it had a disclaimer talking about "experimental software" and asking that the user "guard it like a ninja". The poster also says that the display is only "ok", whatever that means.
The rumors have been saying the Nexus 5 will sport a
Snapdragon 800
, a 4.96-inch 1080p display, LTE, and if Google's Vic Gundotra is to be believed, it may also have an "
insanely great
" camera. The rumors have also pointed to an
October 14th
announcement, but those rumors haven't had much behind them as of yet.