Google's Vic Gundotra says Nexus phones are to become 'insanely great cameras', just you wait
8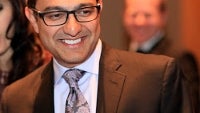 Google's Senior Vice President of Engineering, Vic Gundotra, seems to never learn not to disclose stuff on social networks. After Larry Page practically scolded him for commenting on Twitter "two turkeys don't make an Eagle" on the Microsoft-Nokia partnership, now Mr Gundotra is on Google+ for teasing some info on upcoming Nexus phones.
Vic Gundotra answered a follower's comment that they hope one day to be able to forget about lugging heavy camera with them when they have a Nexus phone, with the enigmatic "
we are committed to making Nexus phones insanely great cameras. Just wait and see
."

Now we've heard that the
Motorola X phone will eventually sport a Sony camera
, like most flagships this year, and we all know Moto's smartphones might be good at many things, but cameras aren't them, yet Google's VP mentions Nexus handsets, which the Moto X might not be, so what is Google doing with camera sensors remains a mystery still.
Vic Gundotra might have also meant something even further in the future, but the "committed" part is quite reassuring anyway, knowing Google's engineering prowess.