Nexus 5 shows up in a 3D render for a virtual hands-on
12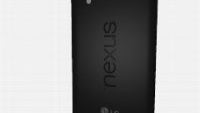 To be clear, this is not an official 3D render, but there have been enough leaks of the device that those putting together the build are confident in what the new LG Nexus will look like. We've seen
renders
put together before, but this time around it is a full 3D render that can be viewed from any angle you like. So, you can get your own virtual hands-on, and all you need is the Unity plugin.
There have been
FCC
filings, the original sighting in the
Android KitKat statue
video, and today (after this 3D render was put together) we even saw a
real world leak
of the device after it was left in a bar. So, there's plenty of evidence as to what the new LG Nexus (presumed to be called the Nexus 5) will be called. Of course, we still don't know if there will be changes to the UI of Android 4.4 KitKat.
Likelihood is that there won't be any major UI changes, because those are usually reserved for the full point-oh releases of Android, and this is an incremental update. There is a rumor that the
accent colors
may change, like Google did between Android 2.2 and 2.3 though. As a placeholder, the Android 4.3 wallpaper has been put in the new render.