Did the FCC just give thumbs up to the LG Nexus 5, spotted on the KitKat unveiling video?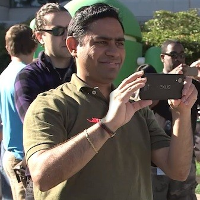 You might remember on Wednesday
that video we showed you of the KitKat statue unveiling on Google's lawn
that showed someone using a mysterious Nexus branded phone to take a picture. Right away, the interwebs burned up with news that this mysterious device was an LG built Nexus 5 smartphone. On Thursday, we can pass along the news to you that a phone similar to this device just got thumbs up from the FCC.
Based on pictures from the FCC documentation, the device submitted to the Feds has a curved back and a large camera opening just like the mystery phone seen in the video. What we know about the device is that it goes by the model number D820, is made by LG and is equipped with a 4.96 inch screen. The phone supports 7 LTE bands (bands 2/4/5/17/25/26/41) which are compatible with carriers like AT&T, T-Mobile and Sprint. There is also coverage for CDMA / EVDO rev A, pentaband DC-HSPA+ and quadband GSM /
EDGE
, Bluetooth 4.0, NFC and dual-band 802.11 b/g/n/ac. Whew!
Some other documents have revealed more information such as the news that the phone is running firmware M8974A, and the software version listed is "aosp_hammerhead-userdebug KyeLimePieFACTORY eng.sangjoon84.lee.20130618.015154." The former suggests that a Qualcomm Snapdragon 800 processor is under the hood while the latter, with the Key Lime Pie typo, tells us that KitKat is installed. The handset measures 131.9mm by 68.2mm.
If the speed with which a video is pulled corresponds to how secret the information on the video is, there is no doubt that this analysis is on the right track. All those who had LG as the manufacturer of the Nexus 5 in the office pool appear to be victorious.
source:
FCC
,
S4G
,
Engadget
via
AndroidandMe