As Android passes 1 billion activations, head announces Android 4.4 KitKat and contest to win a Nexus 7
87
For a long time, we have been under the impression that the next major version of Android would be Key Lime Pie, and the hope was that it would be version 5.0. We have also been under the assumption that the sweet-themed Android codenames would be staying away from trademarked goodies. Well, Android head Sundar Pichai has smashed all of those assumptions by saying that the next version of Android will be 4.4 KitKat.
If any tech company knows about advertising, it's Google, and it looks like Google is going for the first ever product tie-in with the new version of Android. We are fans of Key Lime Pie, but KitKats are pretty delicious too. The KitKat Android statue has already arrived on the Google campus to join the rest of the statues, and Google has set up a landing page showing the history of Android nicknames all the way through to KitKat. The other big news is that Android has passed 1 billion total activations, according to Mr. Pichai.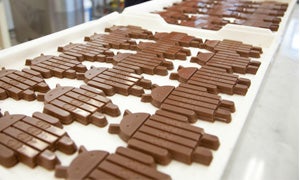 Of course, the tie-in doesn't just end with the name. There will be KitKat bars sold in stores that will have the Android bugdroid on the packaging. Even better, the candy bars will be part of a contest in which you could win a KitKat bar shaped just like the KitKat bugdroid, or a Nexus 7 tablet. And, this opens up the door to plenty of other tie-ins with future versions of Android, like Android Moon Pie, Android Snickers, or the one that we're really hoping for: Android Oreo.
Unfortunately, Google isn't letting slip any information on what Android 4.4 KitKat will bring to the table, saying simply, "It's our goal with Android KitKat to make an amazing Android experience available for everybody." The rumor has been that the next major version of Android would bring optimizations for low-spec handsets, as well as optimizations for
laptops
and TVs. That would certainly fit the "amazing Android experience available for everybody."
With the statue on the lawn, and new Nexus devices expected in the next couple months, it shouldn't be too long before we see the official unveiling of Android 4.4 KitKat and all of its features.