The dual-core phones benchmarked, LG Optimus 3D takes the top
13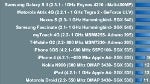 When we wrote
our article
about the first generation dual-core chipsets way back last summer, they were all still sampling with manufacturers, but now that three of them have gone into devices, we have the chance to observe how they actually fare.
At the time the
Texas Instruments OMAP4 4430
chipset seemed the most promising to us, because of its added functionalities for
image processing
, and optimized battery consumption. We won't mention the dual-core Snapdragon here, as we are yet to handle it in a phone. OMAP4 seemed to offer more than
NVIDIA Tegra 2
, while not much was known about Samsung's
Exynos
chipset, which, until recently,
was called Orion
.
We only know that Samsung switched from the PowerVR graphics chipset line, which was present in its Hummingbird chipset in the Galaxy S, and in the iPhones, to ARM's own quad-core Mali GPU. Little was known exactly how many triangles per second is Mali supposed to push out. Samsung claimed it will give 5x the performance of its previous GPU used, which would have put it at insane speeds. On ARM's website the same 5x claim is made, but in comparison to the old Mali GPU, so go figure.
Of course, performance depends on many variables - at what level are the GPU and memory clocked, the driver's version, software, etc. The Power VR SGX540 in the TI OMAP4 chipset, as found in the
LG Optimus 3D
, is clocked around
300MHz
, 50% higher than the same GPU in the Galaxy S. NVIDIA uses its own eight-core GeForce GPU in Tegra 2, which performs slightly above the Hummingbird GPU, clocked as it is in the
Galaxy S
.
Enough with the theory, let's see how the LG Optimus 3D with Texas Instruments
OMAP4 4430
, the
Motorola ATRIX 4G
and
LG Optimus 2X
with
NVIDIA Tegra 2
, and the
Samsung Galaxy S II
with
Exynos
performed in reality. Anandtech has managed to run a couple of quick tests for graphics and browser performance, and the results confirm what our
own tests
showed the other day.
While in the browser benchmarks they are somewhat close, in graphics the OMAP4 chipset eked out about 5-6 frames more on the GLBenchmark 2.0 Pro test, trailed by the Tegra 2 phone, and, surprisingly, by the Samsung Galaxy S II. All tests are relative - in the browser department, for instance, our
own Sunspider JavaScript benchmark
with the LG Optimus 2X showed 3096ms, which would have put it on top of Anandtech's tests. Nevertheless, in graphics the LG Optimus 3D definitely has the upper hand, but not by much, and we guess the dual-channel LPDDR2 memory controller helps every bit.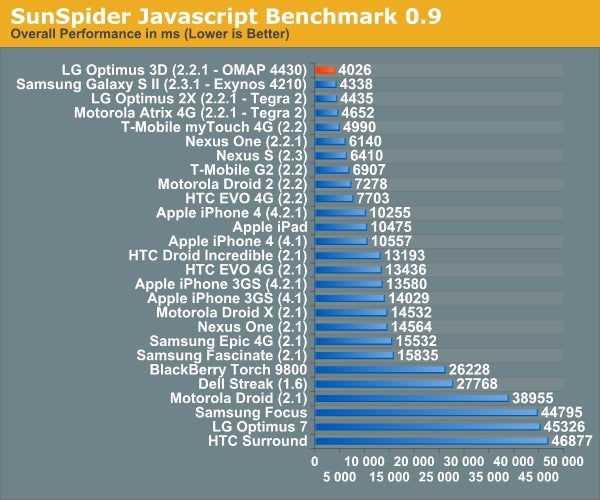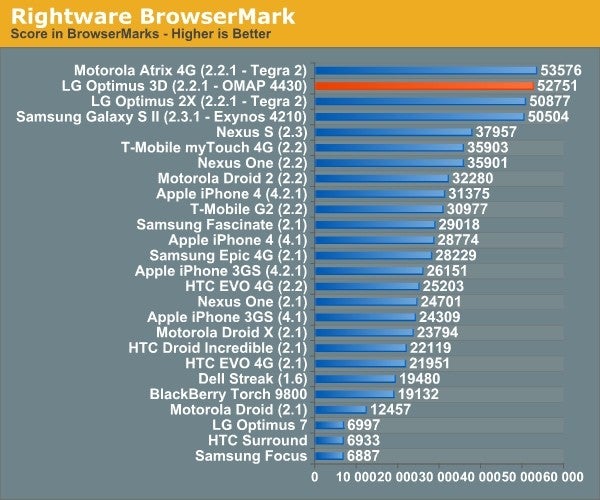 Our
Quadrant benchmarks
from the other day placed LG's finest at the top in general benchmarks too, but we thought it is due to the file system the Samsung Galaxy S II might be using, which slows its read/write performance down. The graphics results, though, are rather revealing, despite that we sincerely doubt these tests have been optimised for two CPU cores, let alone multicore GPUs - Tegra 2 has eight-core GPU, and Exynos has quad-core, for example.
Anyway, these benchmarks are just for
bragging rights
- any of these handsets has more power than you will ever need in your phone for running the everyday apps, and it will be so for a while.
Besides, although Tegra 2 beat Exynos in the graphic test, it still does Full HD 1080p video at only 24fps, whereas the Galaxy S II does it with
30fps
, so synthetic benchmarks are just for kicks. Also, the Optimus 3D and Galaxy S II are non-final units, so take these with a grain of salt. The Motorola ATRIX 4G's software is probably not finalized too, otherwise the company
wouldn't have warned
that Full HD 1080p recording will come post-launch via a firmware update.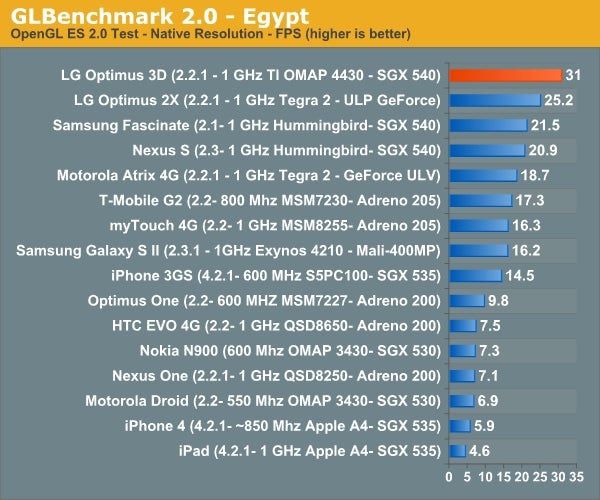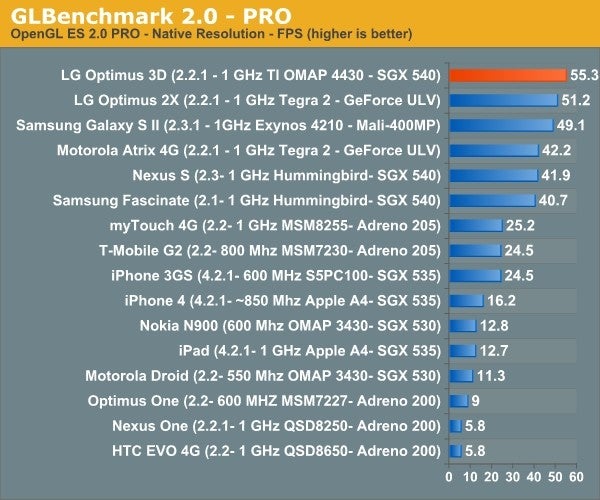 source:
Anandtech