The LG Optimus 3D scores 2958 on Quadrant, Samsung Galaxy S II did "just" 1950
7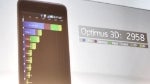 UPDATED:
Samsung Galaxy S II 1950 Quadrant score
Proving
our suspicion
that NVIDIA Tegra 2 might not turn out to be the fastest dual-core 1GHz chipset of them all, the
LG Optimus 3D
, which is powered by a dual-core
Texas Instruments OMAP4
, was shown scoring
2958
on the Quadrant synthetic benchmark test at LG's presentation.
Our review unit of the
LG Optimus 2X
, the first dual-core phone with 1GHz NVIDIA Tegra 2 chipset, scored consistently in the 2700 range, but close to 3000 for a stock handset is simply amazing.
We also ran a test on the
Samsung Galaxy S II
, as Sammy has been totally hush-hush about the capabilities of its
Exynos
dual-core chipset with quad-core GPU. Our prototype Samsung Galaxy S II unit scored
1950
on Quadrant, which is way less than the other dual-core chipsets, and made us wonder if Samsung's Exynos actually is as powerful as we thought before.
Or, alternatively, it could be the same issue with the file system that warranted the creation of the lagfix for the Galaxy S. Android 2.3 Gingerbread, though, is the first version to
feature the new Ext4 file system
, which is what the lagfix recreated, so either Sammy has messed with that, or these might be the actual phone capabilities. Not that it matters, though, it is still powerful enough for anything currently out there, and in the final iteration the score might be different.
Have a look at our own Quadrant tests on the LG Optimus 3D and Samsung Galaxy S II below, where the 3D-capable handset scored slightly lower at 2800 than what we saw at LG's presentation, but bear in mind these were still in non-final versions. Regardless, 2800 is the largest result we've tested stock.