LG Optimus 2X vs Samsung Galaxy S: browser and chipset benchmark test results
18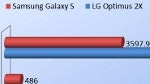 We ran a few standardized tests on the dual-core
LG Optimus 2X
against last year's finest the
Samsung Galaxy S
, and have a couple of charts to share.
Bear in mind that the
Samsung Galaxy S
we tried was straight from the carrier with
Android 2.2 Froyo
, not rooted, and not with the lagfix, so some results suffered due to its stock RFS file system, especially in general benchmarks which measure read/write speeds, like Quadrant.
When the lagfix betters its file system the Galaxy S easily gets 2200+ on Quadrant, but we wanted to compare the handsets as their creators intended.
Other than that, the LG Optimus 2X performed better in almost all of the tests, except for close results in a 3D graphics test, where it managed only about 13% more frames per second than the Samsung Galaxy S (we can discount the huge difference in Neocore, since it is a rather old test, but we did it just for reference purposes). We have marked in the titles the instances where the lower score is the good one; in the rest of the benchmarks higher means better.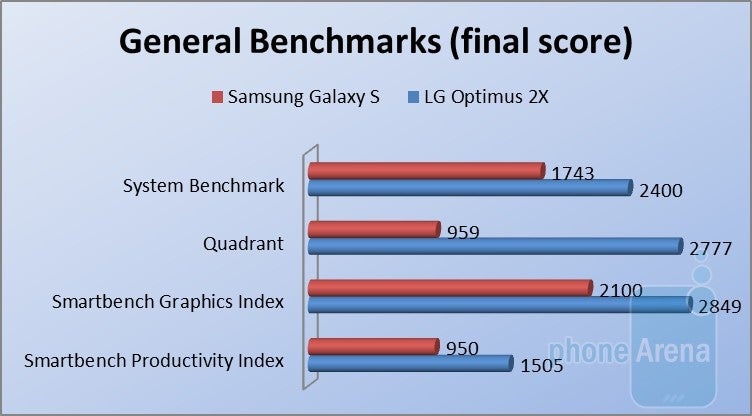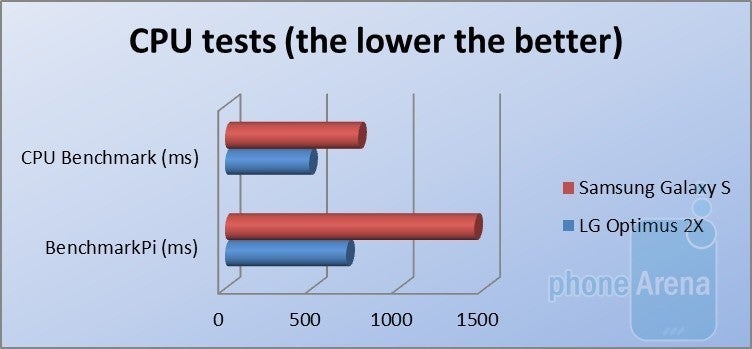 In browser benchmarks, on the other hand, the
NVIDIA Tegra 2
1GHz dual-core chipset inside the LG Optimus 2X really shined. It delivered thanks to the
Symmetrical Multiprocessing
(SMP) capabilities of ARM's multi-core Cortex-A9 chips like Tegra 2. Recent changes in the Webkit code, what we have in the Android browser, allow for taking advantage of multiple CPU cores when rendering websites.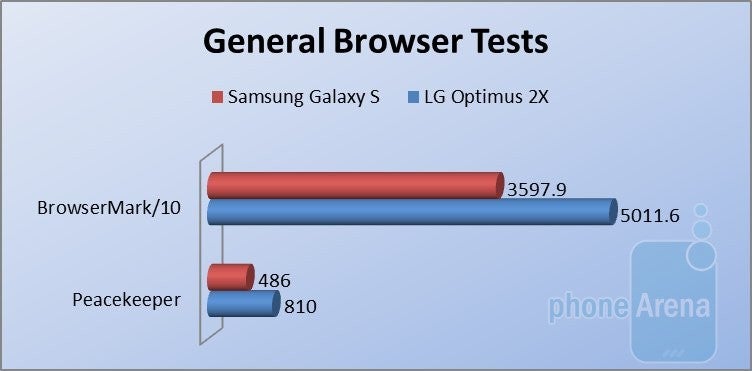 For example, when a single-core chipset encounters some script on a Web page, it stalls other tasks until the script is executed, whereas if there is one more core, they continue fetching the page from the server in parallel, thus speeding up the load times quite a bit. Indeed we saw much faster performance both in benchmarks like SunSpider (JavaScript rendering) or GUIMark2 (Flash and HTML5), as well as in actual page load times.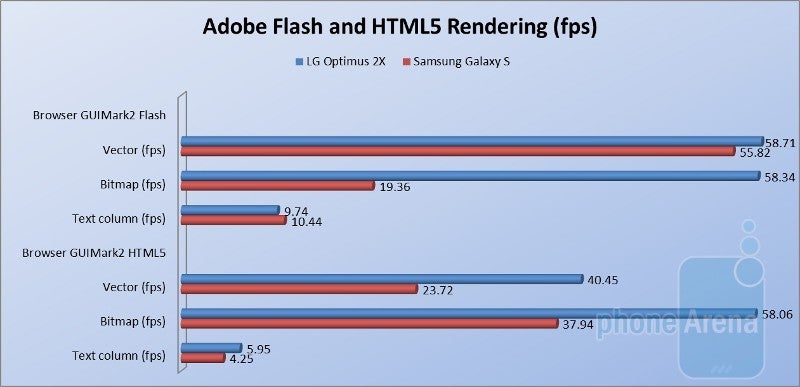 Overall, the "
two cores are better than one
" mantra holds water in everyday usage, and, as we saw at Google's
Android 3.0 Honeycomb event
, developers are already working on apps and games that take full advantage of the two cores running in tandem, so, come this year's holiday time, we are positive that dual-core will be all the rage as stocking stuffers.