The Interview is coming to Netflix on Saturday
15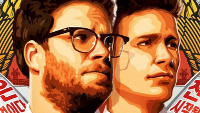 If you weren't one of the (un?)lucky ones
who paid to stream The Interview over a mobile device a few weeks ago
, we have some news for you. The most talked about movie of the year will be available to Netflix subscribers starting on Saturday. You would have to be awakening from a coma not to know the background of this film.
The plot involves two news reporters (Seth Rogen, James Franco) who are planning an interview with North Korea leader Kim Jong-un and are asked by the CIA to assassinate the Supreme Leader. Word about the movie made its way to North Korea, and the next thing you know, Sony was hacked by a North Korean hack squad. Some of the information leaked revealed news about the Sony Xperia Z4 and
product placements for the next James Bond movie
. As we've pointed out before, it didn't help that the Japanese electronics and entertainment company had kept its passwords in a file marked "passwords".
Threats against theaters that were going to show the movie ensued, said theaters decided not to show the film, and Sony gave Colonel Sanders a run for his money by officially pulling the film. After things died down, Sony grew a pair and decided on a limited theatrical release to coincide with The Interview's availability on Google Play (where it ended up being
the top selling movie of 2014
) and iTunes. The film has grossed $40 million in digital sales thus far.
Starting this Saturday, Netflix subscribers can see what all of the shouting was all about. By the way,
Seth Rogen is supposedly the top choice to portray Steve Wozniak
for Universal's Steve Jobs biopic. Shooting on the movie
has already started at Jobs' boyhood home
. We don't expect Kim Jong-un to complain about the plot of this film.
source:
BGR