Filming begins on new Steve Jobs film; crew spotted at Jobs' boyhood home
61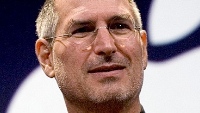 Yeah, we'll admit it. The first Steve Jobs biopic
Jobs
, starring Ashton Kutcher, was pretty much a snoozefest. On paper, it looked good with Ashton Kutcher portraying the late Apple co-founder. And Josh Gad seemed to be an inspired choice to play Steve Wozniak (Matthew Modine as John Sculley also was a great choice). But the film flopped both artistically
and at the box office
.
If you've been
following the story over the last three and a half years
, you know that a second biography of Steve Jobs was originally planned by Sony. You know, the studio that used a file named "Passwords" to hold all their important passwords. Perhaps too focused on "The Interview" (which has already faded from our consciousness) Sony passed the rights to Universal and shooting on the project has begun.
The first location shot took place at the site
where it all didn't happen
(according to The Woz), the garage in Steve Jobs' boyhood home. Recreated to look like it did when inhabited by Jobs and Wozniak, the film crew added an 8-track stereo player and Bob Dylan posters. Wouldn't it have been funny if they left an iPhone or two in the scene?
With a script written by Aaron Sorkin based on Walter Isaacson's best selling biography, the new Jobs film is expected to have three acts. Each one is a major turning point in the life of Steve Jobs. Act one will show him backstage prior to the unveiling of the first Mac. The second act deals with NeXT computer, while the third and final act will have Jobs backstage again, prior to the introduction of the OG Apple iPod. Which makes us wonder if the problem with these films is that they cut us off prior to the unveiling of the products that many associate with Steve Jobs.
Michael Fassbender is expected to play Jobs while Seth Rogen (now what was the name of the comedy that he just starred in?) is expected to portray Wozniak.
source:
CNET