Hacked Sony email discusses product placements for the Sony Xperia Z4 with the new James Bond movie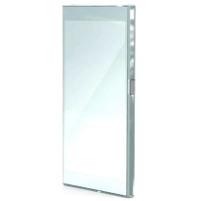 So far, the hacked accounts at Sony Pictures wouldn't seem to have anything to do with Sony's mobile division. But as it turns out, some of the leaked email that has been publicized following the hack by North Korea, has to do with the
Sony Xperia Z4
smartphone and product placements that the phone is expected to receive in the upcoming James Bond movie.
One leaked email mentions new Sony Xperia Z4 phones with the devices set for release in May and November! According to the same email, actor Daniel Craig and director Sam Mendes will get a look at the renders and have some input on the design of the Xperia Z4 phones. One picture shows what might be the Xperia Z4 with the typical square corners and a glass front and a glass back. Another render shows a device with a metal frame and a new clock design. Yet another image shows some sort of colorful wearable device with a curved display.
These designs were part of an email that was taken from the inbox of Sony Pictures Entertainment CEO Michael Lynton. The email was written by George Leon, Sony's executive vice president of consumer marketing. The subject of the email was the fees that Sony Pictures could receive with product placements for the new James Bond movie
Spectre
. One example mentioned by Leon was a $5 million fee that Daniel Craig could collect for posing for a picture while using the Xperia Z4.
According to the leaked email, Sony's electronics division has already budgeted $18 million for Above-the-Line advertising commitments, the $5 million fee to Daniel Craig and a $5 million production budget. The email also discusses the possibility of doing a promotion for the Xperia Z4 without Daniel Craig. The famous Bond gun barrel would be employed, but there would be no Bond.
"Sony Electronics is now combing the production request list and will shortly tell us what they can provide. Sony MOBILE has now provided us with the needed visuals of the new Z4 Phones. These phones are the planned phones for MAY/NOVEMBER of 2015. I'm attaching the visual for you to see.

Barbara has it and will be meeting with SAM/DANIEL shortly to discuss and to come back with their design for the phone. Mobile is fine and is waiting to hear from us.

Barbara wants to get a PLACEMENT FEE for putting the phone in. She understands that Sony is willing to commit to a marketing/advertising campaign of 18MM, but she wants an additional placement fee. In the past, Sony Electronics/Mobile has not paid a fee…but has paid the following:

• $18MM Above-the-Line Advertising commitment

• $ 5MM Production Budget/Cost including TV, Print, Digital, etc.

• $ 5MM Daniel Craig FEE

• $ 1MM License Fee to EON for a limited edition Bone phone (which by the way…

Sony Mobile never recouped, but paid)

Today…Sony Electronics has so far budgeted the following:

• $18MM ATL Advertising commitment

• $ 5MM Daniel Craig FEE

• $ 5MM Production Budget

What if we take the Daniel Craig fee and convince Sony just to pay Barbara directly 4MM for a placement fee. NO Daniel this time. We walk from him. The remaining 1MM (or LESS!) of this budget can be used to hire "Q" instead? Her fee would have to include the right for Sony to use the 007 marks including the barrel, but no Daniel."-Leaked email from George Leon, Sony's executive vice president of consumer marketing, to Sony Pictures Entertainment (SPE) CEO Michael Lynton
Meanwhile, the leaked images of the Xperia Z4 show a new clock and a lock screen that changes color to match the color of your Z4. It's hard to believe that all of these images could be revealed thanks to the hackers that broke into Sony's email account.
source:
Gizmodo