Test of Crazy Penguin Party for the iPhone
1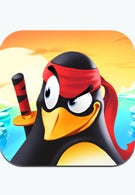 We must admit that we just have a thing for penguins and that´s nothing to do with our gourmet preferences. We are eager fans of those of them living peacefully in Madagascar as well as their flying counterparts that appear in Crazy Penguin Catapult and the good news is you can easily find the game whatever your mobile platform might be. The fearless penguins that once fought against treacherous bears have now found a new way of showing the world what they are made of and on their own terms in Crazy Penguin Party.
This is a title that is actually a compilation of six mini games, all of them with their unique gameplay. You can choose one of the six available gameplay modes, i.e. Survival, where your main goal is to endure on the battlefield for as long as you can, Racing - logically the first to cross the finish line wins the game, Tournament that is something like Olympic Games where you can compete in various disciplines against phone-controlled AI opponents or up to four of your friends (either way on the screen of one handset). Of course, your major goal is to gain the highest game score you can, then brag about it on Twitter. Unfortunately, you cannot compare your achievement to what other players around the world have accomplished.
All told, Crazy Penguin Party delivers colourful, motley graphics and mini games that you can quite easily end up addicted to, especially if there are people you can share the experience with. It´s a cool thing that controlling the gameplay is really easy to get used to, despite the fact your character is controlled differently in all six mini games. Well, there are certain, minor issues that we find slightly annoying really, like the sound theme keeps repeating again and again (which would not be a problem if it was not so boring), plus it would have been nicer if there was a global rank list.
You can download Crazy Penguin Party from the App Store for free and this is an offer that we would advise you not to pass up on. Java versions of the same game for other platforms are also easy to come by and the major difference relates to the way you control your character, while the graphics and fun they deliver remain the same and equally good.