Sony Xperia Z3 Compact battery life test results: the new champ welcomes us to the era of 'two-day' battery life
86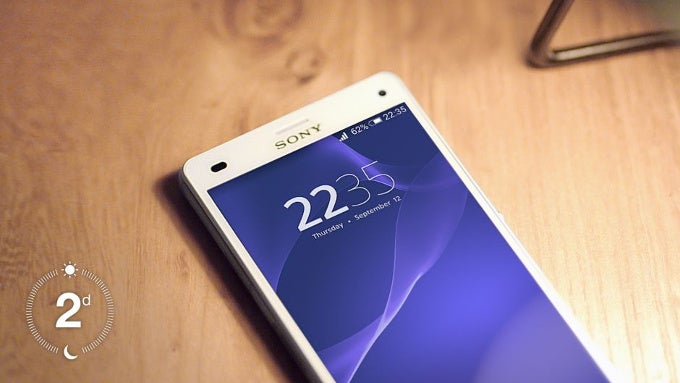 The
Sony Xperia Z3 Compact
comes with the promise of not only being a flagship-grade device with top specs in a compact body, but also with one particularly alluring proposition - that of two-day battery life. Such big claims for Sony begged for some real-life testing, and we're happy to say that we've concluded our exhaustive Xperia Z3 battery life test and the results are in.
The Xperia Z3 with its 2,600mAh battery proved to be not just good, but quite exceptional: it easily grabbed the first place amongst all non-phablet smartphones with a battery longevity of
10 hours and 2 minutes on our test
.
How do we test? We run a custom script that replicates real-life non-stop usage of a smartphone, so the result is indicative of how long the phone would last under average use when you use the phone without putting it down. In reality, of course, our phones stay idle for long periods of time and this is why the Z3 Compact will be able to run for two days off the charger under average use.
Of course, this depends on how you use the phone: Sony's official numbers show that the Z3 Compact talk time is 14 hours on 3G, then it promises 10 hours of continuous video playback, and 110 hours of continuous music playback. Most impressively, though, the handset's stand-by longevity stands at over 38 days, while other flagships like the Apple iPhone 6 Plus and Samsung Galaxy S5 clock in at just around 16 days.
We're also very happy to see that Sony has added a new Ultra STAMINA mode that turns wallpapers to black and white, leaving only very few basic apps. This mode is clearly there to squeeze the most out of your battery, in a way similar to what Samsung first did with its Ultra Power Saving Mode. With the Ultra STAMINA mode enabled and 40% of charge left, the Z3 Compact shows that it can last for more than 4 days, which is nice.

Here are all the apps that are available when you are in Ultra STAMINA mode: Phone, Contacts, Messaging, Camera, Album, Calendar, Alarm & Clock, Calculator, FM Radio. The browser is sorely missing, but camera is there. It's all about compromise. Keep in mind that Sony's implementation is also a bit clunkier than others' as deactivating ultra stamina mode will actually force-restart your device.

We have also run a test to see how fast the phone recharges. Unfortunately, it seems that the Z3 Compact does not feature any kind of the new QuickCharge technologies that allow a very fast charge-up of the phone. You'd need to wait nearly 3 hours and a half for a full re-charge of the handset's 2,600mAh battery. Take a look at the Xperia Z3 Compact battery life test results right below.
Testing method:

As for our battery test, we use a simulation of real-life usage. A smartphone nowadays is used for much more than calling and texting, so we had to take this into account. The average smartphone user actually spends most of the time on the web and social media, and you might be surprised that this average Joe of a user actually listens to music and plays games more than he talks! To get a better understanding of that average use, feel free to take a look at the
top activities we do on our smartphones
.