Surprise, surprise! The Note 4 defies expectations by acing our battery life test, becomes the longest-lasting QHD phone
99+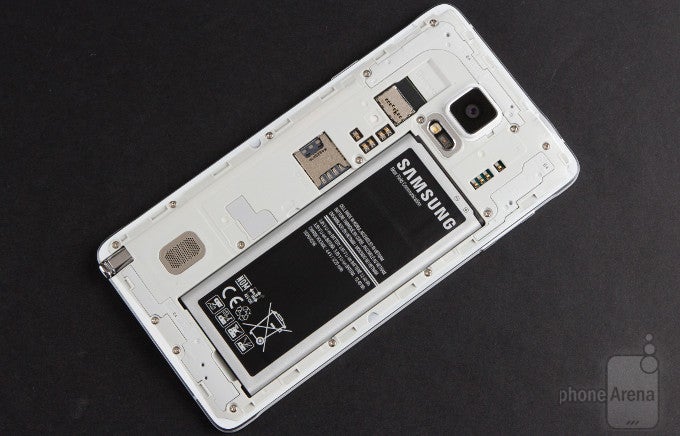 When Samsung execs took up to the stage during the company's
Galaxy Note 4
announcement event and made it clear that the Galaxy Note 4 will not come with a significantly larger battery, we were a bit worried. After all, a Quad HD display is pretty much guaranteed to require more out of the battery, and we had proof -- just look at the
LG G3
and
Oppo Find 7
. Neither of those had horrid endurance by any means, but they weren't exactly industry-leading, either.
The 3220 mAh cell of the Note 4, however, despite offering an absolutely tiny 20 mAh bump from the 3200 mAh unit found within the
Note 3
,exceeded even our more generous estimates. We were expecting a battery life that was largely identical to its predecessor, but that's not at all the case -- the Note 4 clocked the impressive 8 hours and 43 minutes in our custom battery life test, which is a significant improvement over the 6 hours and 8 minutes the Note 3 managed a year or so ago.
So how do we test? Put simply, we run a script with varying loads that attempts to replicate real-life, non-stop usage, with the screen set to 200 nits. This means that the average Joe should be able to squeeze nearly 9 hours of screen on-time with the Note 4 going through a typical daily routine of calls, texts, browsing, and games. On average. In other words, expect the Note 4 to hold fast for at least a day and a half, and even more if you go easy on it and make sure to remember to turn on its excellent Ultra Power Saving Mode when low on charge.
Speaking of charge, we were also very happy to see that Samsung has delivered a device that supports truly quick charging -- the massive cell of the Note 4 needed just 95 minutes to charge. That's an absolute record for a juicer this big, and yet another piece of great new for those of us who consider the battery aspect of a smartphone to be a big deal.