Our Google Nexus 6 battery life test is complete, phablet lags behind the Note 4
45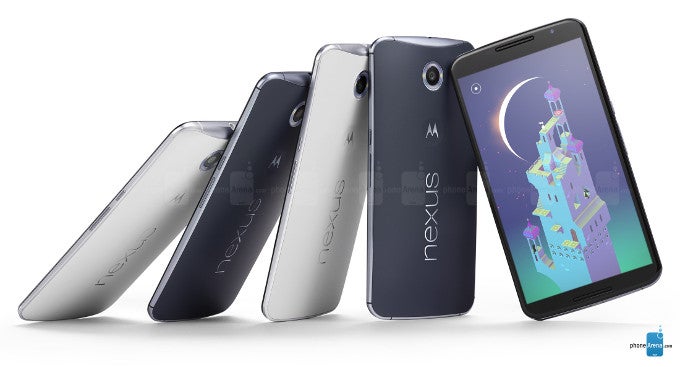 When it comes to battery life, the story of the modern Nexus line is a fairly sad one – the Nexus 5, for example, managed just 4 hours and 50 minutes on our custom battery test, which is pretty underwhelming for a device at the flagship level. For the most part, we had the comparatively small, 2,300 mAh cell to blame for that, though many of us were willing to let this particular issue with the N5 slide simply because we were still getting a killer deal (it retailed for $349, after all!).
Things changed with the Nexus 6, however – Google's first phablet not only has enough space to fit a massive, 3,220 mAh cell, but it's also priced at $649. So it obviously has to deliver, and deliver on battery life, too, and despite its power-hungry Quad HD display. Thankfully, as it turns out, it absolutely does – this is the first Nexus device to achieve an excellent battery life on our custom test, or, all told – 7 hours and 53 minutes. Unfortunately, while this is a pretty great score overall, it does fall behind other recent QHD juggernauts, like the
Galaxy Note 4
and the
DROID Turbo
, both of which fared better (8 hours 43 minutes and 10 hours 42 minutes, respectively).
So how do we test? We run a custom script that replicates the average person's usage in real life. The final time figure you get is indicative of the total time the average person can expect to spend using the device if he does not put it down to rest before it dies. So, obviously, an 8 hour score doesn't mean you can play a graphics-intensive game for 8 hours straight.
Last, but not least, when it comes to charging from zero to full, the Nexus 6 is among the quickest devices on the market, with a measured score of just 98 minutes – identical to what the Note 4 achieved, at 95 minutes, and pretty much on par with this category's champion, the Oppo Find 7/7A (if you account for the difference in capacity).
See for yourself.