Talking is not even in the top three activities we do with our smartphones, study claims
8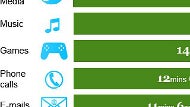 British carrier O2 released a stat chart what are we most often using our smartphones for, and actually talking with them comes as a distant fifth according to the minutes we spend yammering at some one.
The top three are browsing, social network updates and listening to music, with games coming at the fourth place, just before talking, which comes with roughly the same usage as checking email and texting. David Johnson, general manager of devices for O2 in the UK, commented on their statistics:
Smartphones are now being used like a digital 'Swiss Army Knife', replacing possessions like watches, cameras, books and even laptops. While we're seeing no let-up in the number of calls customers make or the amount of time they spend speaking on their phones, their phone now plays a far greater role in all aspects of their lives.
Talking is, of course, here to stay, and a good part of these Internet sessions that occupied the top spot might be using VoIP software like Skype, if O2 just counts web usage in MB, but in the US the reluctance to chat it up has seen the average call duration shrink from about three minutes to half that from 2005 until now.