Sony Xperia XZs hands-on: a minor refresh with a fancy new camera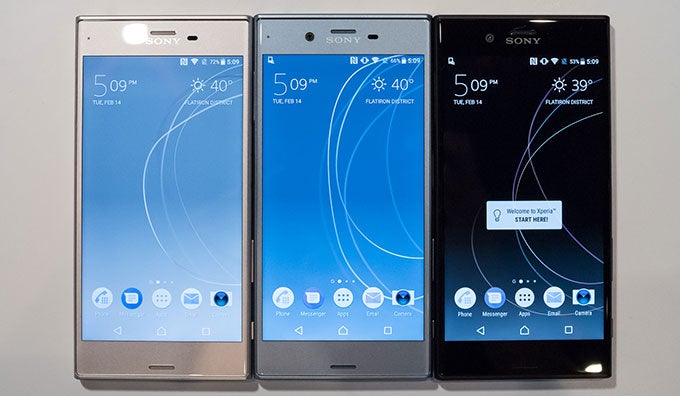 Usually when a smartphone manufacturer introduces its latest flagship hardware, replete with all the hot new bells and whistles, it's all tech fans can do to resist clawing past each other to get their hands on that new kit, if only for the bragging rights. But there's something odd about screen resolution: even the most forward-thinking spec junkie can begin to push back a little when we start cranking smartphone screen resolution up much beyond 1080p.
If you thought that quad-HD "2K" smartphone screens were contentious, that's got nothing on 4K, as Sony learned only too well with
2015's Xperia Z5 Premium
. After a year-long hiatus, the company's now taking a second stab at 4K on phones with the new Xperia XZ Premium.
Almost as if it realizes that there's a sizable contingent of users just lining up to scoff at the basic idea of 4K on a phone, Sony's ready with an alternative: the new Xperia XZs. This model gets to still enjoy some of the same hardware upgrades as the XZ Premium, while sticking with a much more traditional 1080p resolution.
A Familiar Design Makes Its Return
Sit an Xperia XZs
next to the Xperia XZ
and you're likely to do a double-take: Sony hasn't done much to tweak the layout of this new hardware. Look extra-close and you just might be able to spot the few differences that make the XZs stand out, like its slightly more prominent camera bump, but there is not a lot that's new here. To a large extent, that's a good thing, as the Xperia XZ had a really satisfying, clean, well-executed design.
Unfortunately, Sony also hasn't done much to fix the few things we
didn't
especially like about the XZ, like the use of plastic materials here and there – and maybe most prominently in a plastic "window" at the bottom of the phone's back. And also like so many other Xperias, the integrated fingerprint scanner in the phone's power button will be an international-only feature, disabled for the US release.
All of that's far from a deal-breaker, though, and the sturdy workhorse-like design with all its aluminum alloy panels we appreciated from the XZ is nice to see again here.
4K Ain't For Everybody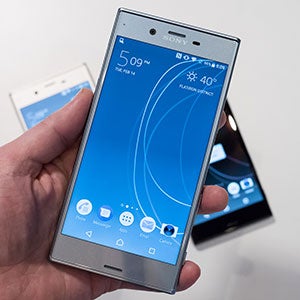 While the Xperia XZ Premium is the new Sony phone to get if you want to push the envelope in terms of display tech with its 4K screen, the XZs is comfortable remaining in 1080p territory. Given its 5.2-inch screen size, though, even that should be plenty sufficient.
Sony's panel taps into the company's Triluminos image processing for high-saturation, bold colors, as well as its X-Reality engine for photo and video enhancement.
But really, this is the same sort of screen setup we got with last year's Xperia XZ. Our experiences there certainly appear to be repeating themselves here, giving us a display that puts more of an effort on visuals that "pop" than necessarily the most accurate color reproduction.
This Refresh Doesn't Include a Silicon Upgrade
For the most part, the choices Sony's made to repeat elements of the Xperia XZ in the XZs are welcome, though that may not be the case for the silicon powering the handset. We're OK to see Sony reserving its 4K display for the Xperia XZ Premium, but we'd love it if Sony would also bring some Snapdragon 835 love to the XZs as well. Instead, the XZs is armed with the same sort of Snapdragon 820 chip we found powering last year's XZ.
To be fair, that's a perfectly adequate, still-very-nearly-top-of-the-line processor. And it's quite possible that Sony felt that the XZs just wouldn't need to tap into all the processing might and power-saving features that the XZ Premium does. But seeing the XZs land with the same chip as its predecessor does make the decision to upgrade that much murkier; there are some very good reasons to go with the XZs over the XZ, but especially if you can find the latter at a good price, the presence of the same chip in both might make going with that older hardware sound like a good idea.

Just Call It The "Sony Xperia XZ New Camera"
If there's one real stand-out feature of the Xperia XZs, it looks like it's the phone's new camera. Like the Xperia XZ Premium, the XZs picks up one of
Sony's new Motion Eye systems
with integrated on-camera memory. That allows the camera to pull off some impressive shooting effects like a slow-motion mode that approaches a mind-boggling 1000 frames per second. We're talking so slow that lots of stuff just looks like it's standing still.
The flip side of that is that resolution takes a hit from the XZ's 23MP sensor, but as you may remember from our review, we didn't exactly love that phone's full-resolution pics, and actually preferred shooting in reduced-resolution modes. By shrinking the raw megapixel count, Sony manages to deliver a camera with pixels 10% larger than on the XZ.
Sony's five-axis stabilization makes a return, as does its RGBC-IR imaging technology to measure (and correct for) ambient lighting color temperature. The front-facer also tells a familiar story, bringing the same kind of 1/3-inch 13MP sensor we saw on the XZ. Even with the upgrades we are seeing with the camera package on the XZs, it's important to remember that a good amount of the tech here is repackaged from what we had on last fall's phone.
A Battery That Still Can't Break 3,000 mAh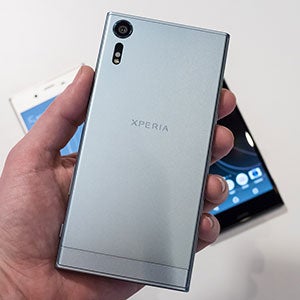 Giving a phone a big battery is easy (well, so long as you aren't too concerned with weight and size), but a far trickier feat is stretching as much power as possible out of a more petite battery. That's a routine Sony's been up to for a while now, using algorithms and machine learning to optimize the way its phones consume electricty.
The XZs brings us more of that story, both in the form of charging systems that anticipate when you're going to need your phone, making sure to top off its charge only right before you disconnect the adapter, as well as app analysis that attempts to identify opportunities to curb the impact of power-hungry software by switching over to the phone's stamina mode.
Would we prefer to simply have a larger battery than the 2,900mAh component present here? Well, probably, as we weren't really wowed by the XZ's battery life – which was all sorts of adequate, but far from exceptional – and that used the same battery-stretching tech as the XZs, as well another 2,900mAh cell.
Expectations
The Xperia XZs is clearly an upgrade over the XZ, and given how much that stays the same, it's also going to be a handset that targets the same shoppers as that older phone. But while sticking with what works makes sense (to an extent), we also can't shake the feeling that maybe not enough is evolving here. The new camera could spell improved light sensitivity and allow for some fun slow-motion filming, but it's also probably not enough to tempt current users into upgrading. And while the improvements will be welcome by new shoppers approaching the Xperia brand, we also wish Sony did a little more to compensate for some of the areas where the Xperia XZ came up short.
Much as with Apple's S-year iPhone upgrades, this XZs feels like an XZ-and-a-half. It's not a full-blown successor, but more of a slightly-revised edition meant to tap into a little in the way of new hardware. Our biggest disappointment is that it doesn't do more in that regard, but we'll want to spend a lot more time with the hardware before forming any final opinions.