Sony's new camera sensor can shoot stunning slow motion videos, four times faster than before
32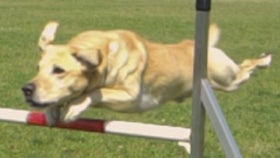 We all know that slow motion can make everything look epic. That's not an opinion, it's a fact, and you know it. But shooting slow-mo videos with your smartphone can prove quite challenging. Smartphones are just not designed with high-speed video capturing in mind, and the latest flagships, such as the
iPhone 7 Plus
, can achieve speed of merely 240 frames per second.
Well, Sony is here to change that. The company has been
supplying camera modules for a variety of smartphone manufacturer
for years and it's widely regarded as one of the best camera makers in the industry, so it's only natural for it to try and one-up itself and the competition. Said "one-up" comes in the form of a new CMOS sensor that packs its own dedicated DRAM.
Up until now, the conventional CMOS sensors consisted of two layers – one being the image sensor itself, and the other being a circuit section for processing the signals that the image sensor produces. Now Sony added a third component, creating the industry's first 3-layer stacked CMOS sensor, packing its own DRAM. The added memory allows Sony's new sensor to process a still image of 19.3 MP in only 1/120 of a second. That's approximately four times faster than Sony's previous model with the same pixel count. The higher speed of reading each pixel line should result in less distortion when taking photos of fast moving objects.
< 1/30 sec readout
1/120 sec readout >
The faster sensor produces visibly less distortion when shooting fast-moving objects.
Additionally, Sony's new sensor will be able to shoot slow motion videos with a speed of up to 1,000 frames per second, provided the software controlling it can handle such speeds. Right now, the flagship smartphones reach speeds that are more than four times slower than that, with the maximum being 240 frames per second. And Sony's new camera module can actually shoot the mind-boggling slow-mo in 1920x1080 pixels, making for a full HD slow motion goodness.
The slow motion capture can be set to start automatically when a fast-moving object is detected, and since it's stored in the sensor's own DRAM, it shouldn't affect camera performance at all. This means that you should get the same smooth experience with both the slow motion video, and regular one.
We, for one, can't wait for the new camera module to hit some commercial smartphones. We'd love to see it in action ourselves.
source:
Sony