HTC One M9 does not overheat when pushed, new thermal image confirms
72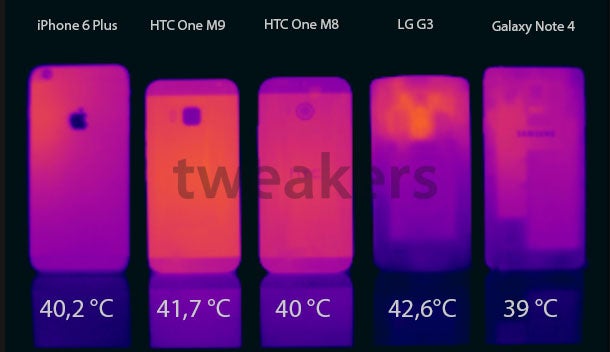 Thermal image of the HTC One M9 vs other flagship phones under load
It was a week ago when a
thermal image of the HTC One M9
under heavy load started making the rounds. The image in question was part of a performance review and showed an M9 unit hitting a surface temperature of 132 degrees Fahrenheit (55.4 degrees Celsius) when benchmarked. In plain words, the phone was getting pretty hot... literally. The silicon inside the M9 was generating significant amounts of heat, unlike other flagship phones it was being stacked up against.
Inevitably, speculations of overheating issues supposedly plaguing HTC's flagship started to pop up from here and there. Was HTC about to launch a flawed device? No, not really. As it turns out, the
recently-pushed software update
has taken care of the issue. What you see above is an updated thermal image of the
HTC One M9
being benchmarked, and obviously, the phone is running no hotter than its rivals. As a matter of fact, it looks like the One M9's metal body is doing a good job at dissipating heat. The generated heat spreads across the phone's surface instead of remaining concentrated around a single point, which is a good thing.
However, we do have to point out that the above results have been most likely achieved by tweaking the thermal throttling configuration of the Snapdragon 810's GPU and CPU. In other words, limits on the the processors' maximum clock frequencies are imposed once the silicon reaches a certain temperature, and after the software update, the temperature threshold stands at a lower point. As a result, the chip's temperature is kept within tolerable margins at the cost of reduced performance. This throttling function is common among smartphone SoCs and isn't exclusive to the Snapdragon 810.
Long story short, it looks like the HTC One M9 is not affected by any overheating problems, although its performance is inevitably limited once its SoC hits a certain temperature threshold. Whether this will have any real-world effects beyond the scope of lower benchmark results remains to be seen. To learn more about the company's latest flagship, feel free to check out our
HTC One M9 review
.