Seidio Active Samsung Galaxy S4 case hands-on
7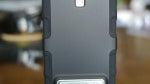 Looking for that all-in-one case solution for your brand spanking new
Samsung Galaxy S4
? One that features a handy holster to keep you prized possession attached to you, and a kickstand for a hand-free video watching experience? Well, you only need to look at the
Seidio Active case for the Samsung Galaxy S4
, as it includes those two specific features.
Honestly, not much has changed in terms of design with this year's new model, seeing that follows in tradition to the design aesthetics of
last year's version for the Galaxy S III
. When it comes down to it, the Active case doesn't try to win points in the stylish department – even more when its intentions are all about protecting the device. Just like before, it's comprised out of two components that do a decent job of providing some cushion and protection. Specifically, it's a shock absorbing inner rubbery case that's outfitted with a tougher plastic exoskeleton frame.
Yes, all the ports and buttons are accessible, but the display is left exposed to the elements. Therefore, if you drop it from an extensive height, it would more than likely incur some serious damage. On the opposite end, though, the Seidio Active case soundly saves the handset from minor falls and bruises. And did we mention that its
metal kickstand
is useful for those occasions when you simply want to sit back and watch a video? Finally, the included
holster
should no doubt please those who are meticulous about having the smartphone attached to them at all times.
Sporting a price point of
$34.95
online, the Seidio Active Samsung Galaxy S4 case will attract those with a certain preference – and in this case, it's having a kickstand and holster. Sure, it's a little bit up there compared to some other protective cases, but it's not often you'll find one with a kickstand in tow.
More protective Samsung Galaxy S4 cases
source:
Seidio