Spigen Slim Armor Samsung Galaxy S4 case hands-on
10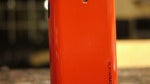 Let's be obvious here folks, there's just something about Spigen's set of cases that gets us so darn excited. Like seriously, we've seen quite a few offerings from their lineup, and with each new item, we're constantly impressed with the outcome. Well, it doesn't surprise us that we're witnessing the same thing here with one of their latest offerings from the Samsung Galaxy S4 – the
Spigen Slim Armor case
.
Right off the bat, we can't help but think about a high-end sports car when looking at the Spigen Slim Armor case for the Galaxy S, since its glossy paint job is able to glue our eyes directly to its
shiny exterior
. On top of that, we absolutely loved how the black accents and red skeleton frame meshes wonderfully together to give it a
great contrast
. So yeah, the aggressive styling of the case undeniably helps it to stand out.
Comprised out of two components, an inner TPU (thermoplastic polyurethane) rubbery casing that's wrapped around a polycarbonate frame, the Slim Armor case encases the smartphone entirely – thus, it's able to protect it soundly, even in the event if it's dropped. Even though the power buttons and volume control are easily accessible, while also being super responsive, the cutouts for its 3.5mm headset jack and microUSB port are a bit tight. Therefore, depending on your cable, it might not fit snuggly in place, which means that you might need to remove the handset from the case.
As for its glossy paint job, it does well to gain plenty of attention, but at the same time, it's
prone to the usual fingerprints and smudges
that become rampant once our hands start to get all over it. Still, a quick wipe from a microfiber cloth brings it back to looking brand spanking new. Overall, when you combine its protective nature and aggressive design, the Spigen Slim Armor case is an undeniable beauty to behold, especially at the price point of
$24.99
, which comes included with Spigen's usual set of home button decals for the smartphone.
More Samsung Galaxy S4 cases from Spigen
source:
Spigen