Cygnett WorkMate Evolution Samsung Galaxy S4 case hands-on
14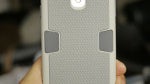 Ahh plastic, we all know the pros and cons of it when it comes to handset designs. On one hand, smartphones using the material tend to be lighter and thinner in profile than its metal counterparts. However, it's perceived to be more brittle, so drops would tend to cause a lot of destruction. Considering that Sammy's latest flagship fits this specific scenario, there are few cases that can really protect it sufficiently – such as the case with
Cygnett's WorkMate Evolution
for the Galaxy S4.
Right off the bat, we'll say that the WorkMate Evolution
adds just a bit of bulk
to the Galaxy S4, which is warranted, but at least it's not as bad as some military spec'd cases. Using a tri-material PC/TPU/silicone design, this two-piece case
adds a sense of protection
to the handset. With its rubbery thermo-plastic polyurethane inner piece, it seems adequate enough to protect the handset from some minor drops and falls – while its tougher polycarbonate outside frame splashes on some sturdiness. Completely encompassing the handset's sides and rear, it's only the display that's left exposed, however, Cygnett is kind enough to
include a screen protector
with the purchase.
Flaunting a price point of
$29.99
, it's not all that bad considering the level of protection it's offering – without adding a considerable amount of bulk. Sure, its design isn't the most prolific thing, but it's all about adding that sense of protection that some people will appreciate most.
More Samsung Galaxy S4 cases!
source:
Cygnett