Cygnett FitGrip Samsung Galaxy S4 case hands-on
3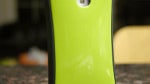 Over the busy Memorial Day weekend, we got the chance to check out an additional case from Cygnett's lineup. This time around, though, it's the
Cygnett FitGrip Samsung Galaxy S4 case
, which we might add, has a definite standout appeal to it design – thanks primarily to its bright and instantly recognizable color.
Holding onto the handset with the case on, we'll be the first to vouch that the Cygnett FitGrip case does add some bulk to the handset, but then again, it does provide some
much-needed protection
. With its dual-layer construction, which is comprised out of a rubbery outer cushion combined with a tough plastic rear casing, it handles considerably well against some minor bumps and bruises. Specifically, it'll survive most drops under 3 to 4 feet in height, however, it's not rugged enough to protect it from extreme drops.
Beyond the tough protection of the case, it's something that instantly stands out in a crowd for its bright neon-like color. And even though it's plastic, which does make it feel a bit slick, it does a decent job of keeping a clean appearance – as smudges and fingerprints don't dirty things up too much. For
$29.99
online through Cygnett's web site, it doesn't seem like a bad choice, especially when it comes included with a screen protector in the packaging, which is standard with most of Cygnett's cases.
More Cygnett Samsung Galaxy S4 cases
source:
Cygnett