Spigen Neo Hybrid Samsung Galaxy S4 case hands-on
16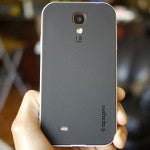 Out of all the cases I checked out last year for the
Samsung Galaxy S III
, my favorite one was none other than the
Spigen Neo Hybrid case
, since it offered a decent amount of protection without adding much bulk. With the Galaxy S4, though, Spigen has changed up the recipe just by a smidgen, but the concept is still there with the
Spigen Neo Hybrid Samsung Galaxy S4 case
.
So what's different with this new version? For starters, the case itself is more
flush and flat in the rear
– whereas with the Galaxy S III one, it was more rounded around the edges. Nevertheless, it's still comprised out of an inner thermoplastic polyurethane inner portion with a polycarbonate frame. Just like before, we love how there's a
sense of personalization
with the various color polycarbonate frames we can interchange, while at the same time, it's still relative
streamlined
. Indeed, the case brings forth a level of protection in the event it's dropped, but it's not something that'll save it from lengthy heights. If there's one complaint, it's that the volume rocker is a bit
stiff
to activate – requiring a firm push to activate.
Brandishing a
$29.99
price point, the case also comes included with different colored home button decals. Overall, it might not come off as stylish as last year's version, especially when it looks so flat, but heck, some will still appreciate its form fitting and protective nature.
source:
Spigen
More Samsung Galaxy S4 cases to check out!