Reader's choice: LG G3 outscores Samsung Galaxy S5
70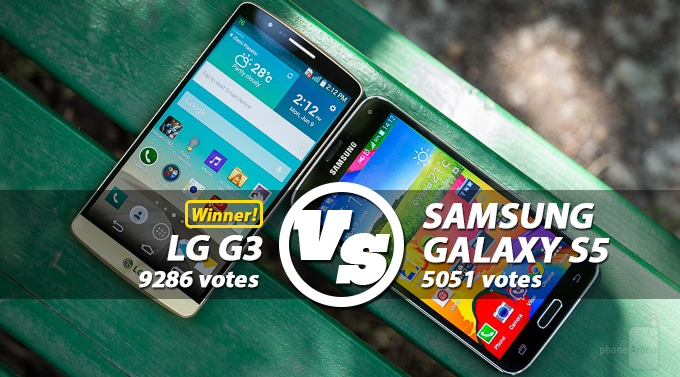 With so many high-end smartphones out there, it's impossible for us to avoid comparing them on a whole bunch of different levels. We've made detailed comparisons, specs comparisons, and what not, but one thing we didn't have until recently was a dedicated "reader's choice" comparison, where our users could step into our shoes and vote for the handsets they think are superior in comparison with their rivals. Well, we recently put up such a
comparison featuring Samsung's Galaxy S5 and HTC's One (M8)
, and guess what - you ruled that the One (M8) deserves to grab the win.
Last week, we had a similar comparison, but this time,
it was the LG G3 that challenged the Galaxy S5
. Once again, our readers were given the opportunity to vote for the phone they think is superior in each of the following categories: Design, Display, Interface and functionality, and Camera. Well, it wouldn't be an overstatement if we say that the G3 has scored a rather definitive victory over its rival, as it has managed to gain a significant lead with a total of 9286 votes, versus the Galaxy S5's 5051.
Interestingly, the Galaxy S5 was simply crushed in the Design department, where the G3 grabbed a cool 78% of the votes. Well, we guess it's high time for Samsung to shake things up, but then again, we've been saying this for quite some time now. Moving on to Display, the LG G3 once again comes out on top in a convincing manner, snatching 60% of the votes. The Galaxy S5 relies on a vivid AMOLED display, but this technology also has a number of downfalls, such as its inaccurate color reproduction, and this has probably what made most users opt for the G3's more-believable screen appearance. Who knows, users might have also preferred the larger-than-life, 5.5" size of the G3's display, in comparison to the Galaxy S5's still-generous 5.1" panel.
Another clear victory for the LG G3 is found in the User experience portion of the comparison, where LG's handset has almost 67% of the votes. Both companies have gone for a more simplistic and flatter approach to software interface development, but LG's offering seems to appeal more to our readers. Exactly why this is, we don't know, but feel free to let us know why you prefer one UI over the other in the comments below!
Finally, both handsets were really neck and neck in the Camera part, but at the end, the LG G3 won with 50.68% versus 49.32% for the Samsung Galaxy S5. From a total of 3431 votes in the Camera section, just 47 votes have managed to separate the two and grant the G3 a narrow victory, though it'd be safe to say the contenders are pretty much equal in this department.
Check out the exact numbers in the gallery below, and let us know if you agree with the results in the comments!