You have spoken: The Note 4 outshines the iPhone 6 Plus in our reader comparison
99+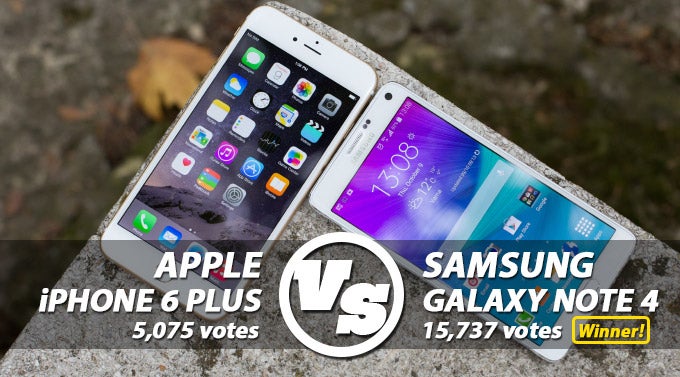 As of recently, we've gotten into the habit of giving you folks the opportunity to voice oit your own opinion on smartphones and how they measure up against their rivals – we just plug the essential, technical info for your reference. The rest is up to you.
Last week, we did exactly that
, and the devices we chose are well-known to all of you –
Samsung's Galaxy Note 4
and the
Apple iPhone 6 Plus
. These two phablets share a ton between themselves, like large and color-accurate screens, premium constructions, and great cameras. But they also differ. One runs Android, while the other makes use of iOS. One is extremely-thin and completely made out of aluminum, while the other mixes different materials (including metal) together. The list goes on and on.
So which one do you prefer? As it happens, this particular match-up was completely one-sided. Indeed, Samsung's Note 4 appears to have won itself a place in the hearts of many of you, and that shows – it gathered the vast majority of votes. In the design section, for example, the iPhone 6 Plus netted just 1634 votes (27.14%) versus the 4387 (72.85%) for the Note 4. Samsung's phablet's advantage is even more pronounced in our readers' minds, at least when it comes to the display: a whopping 82.29% of poll-takers thought so, at least.
Moving onto the interface section, it would appear that the many, many (many) extra features Samsung bundled together with the Note 4 are paying off, for 70.74% of votes went to its darling, leaving Apple's first phablet with a third of the votes. Even in the camera department, the Note 4 reigned supreme, at least according to you – 76.86% of votes went to its name, while the iPhone 6 Plus ended up with just 23.14%.
But, hey, don't just take our word for it – take a look for yourself!