Reader's choice: HTC One (M8) outscores Samsung Galaxy S5
74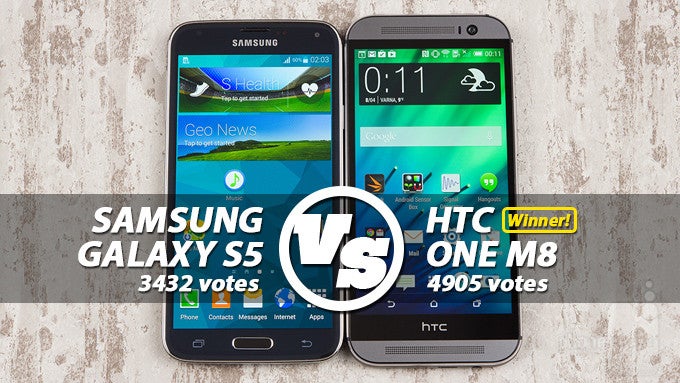 Last week, we came up with this complex comparison article where you had the chance to vote for whichever handset you felt was better:
the Samsung Galaxy S5 or the HTC One (M8)
. However, there was more to this article than that, as you could vote across a number of categories, including design, display, user experience and camera. This way, readers could give credit where it's due, and not just stick with a basic "overall" score.
Needless to say, things turned out pretty interesting with this comparison, as the HTC One (M8) managed to grab the win in three out of four departments - all except Camera. This makes the One (M8) the definite winner in this comparison, as it has generated a total of 4905 votes, while the Galaxy S5 has gotten significantly less: 3432 votes.
The Design department turned out to be a rather one-sided affair. In this area, over 80% of users chose to express their liking for the One (M8)'s premium, all-metal design, in favor of the Galaxy S5's dotted plastic. Next time Samsung gets down to designing a flagship phone, maybe they should take this observation into account! Moving on to Display, things seem to be much more balanced. With the S5's Super AMOLED having a lot of fans, courtesy of its extra-vivid and saturated appearance, the One (M8) couldn't separate itself by such a great margin as in the design category, but still, it looks like more people have chosen the One (M8). User experience is yet another win for HTC's flagship, as its polished interface has managed to attract a significantly larger number of votes compared to TouchWiz.
The only loss for HTC here has to do with the camera - the One (M8) and its UltraPixel camera have suffered a rather painful blow in that particular category, as almost three-fourths have voted for the GS5's 16 MP shooter. Check out the gallery below for a closer look at the results in each category!