LG G3 vs Samsung Galaxy S5: vote for the better phone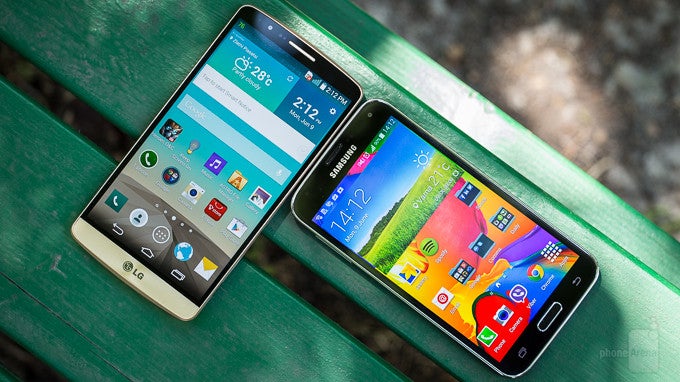 Introduction
And here we are, ready for yet another face-off on the pages of PhoneArena that's going to determine the future of the galaxy. Well, not really, though we wouldn't be surprised if things get especially heated in the comments; after all, we're pitting two of the most popular flagships against each other here: the
LG G3
and the
Samsung Galaxy S5
.
Instead of sticking with out traditional way of comparing phones, though, we're going to do something different – you, our readers, will be the ones determining the outcome of this match-up. You'll be able to vote for the handset you think is better in a number of categories, including design, display, user experience, and camera.
Needless to say, this confrontation will be way more intriguing if one doesn't just vote for their favorite in all categories, but really gives credit to the one that deserves it. For the purpose, we'll refrain from making our own comments or opinions, and will stick with more neutral, descriptive texts.
Design
Last year, the Galaxy S4 and G2 weren't that different in the design department, as both had pretty similar shapes, sizes, and material finishes, but things aren't that close this year with the S5 and G3. That's mostly because Samsung switched to a new style for the S5's back cover, which involves a softer finish with a dotted pattern that gives the phone a more unique look. On the other hand, though, LG has come up with a glossy plastic finish that imitates a brushed metal look in a pretty convincing way. Other than that, things look pretty familiar on the front, with the Galaxy S5 having the typical Samsung appearance, and the G3 aiming to impress with minimal bezels around the display. Minimal bezels or not, we still have to point out that the G3 is a significantly larger phone, and it also has physical keys that are positioned on its rear, instead of their standard location around the sides of the phone, as in the GS5.
Display
If you just can have enough screen, the LG G3's larger-than-life 5.5" QHD panel will probably suit your needs. However, at
5.1
inches, the display of the Samsung Galaxy S5 is also quite healthily-sized, and its lower, 1080p resolution is still delivering great
pixel
density.
In terms of color reproduction, the question one has to answer is 'LCD or AMOLED?'. The particular incarnations of these technologies in the G3 and GS5 deliver completely different display experiences, so users really have to think twice before choosing their side. LCD is the tech that conforms to the standard sRGB color gamut, while AMOLED goes for a larger colorspace that, however, involves some significant color alterations, so various nuances and colors tend to appear differently from their references. In practice, that means that 'grass green' may appear more like 'olive green', or 'sky blue' may look like 'electric blue' on the AMOLED screen of the Galaxy S5. Basically, the dilemma here is whether you'd prefer the more realistic colors of the G3's display, or the overly-vibrant-but-off colors of the S5. Of course, there are other important differences between the two screens in question, such as brightness, color temperature, and other characteristics. Feel free to explore the detailed screen measurements below before making your choice!
Display measurements and quality
Interface and functionality

Both LG and Samsung made the switch to a flatter and more simplified user experience with their new flagships, but now it'll be you who's going to judge which one has done the better job. One major difference that we can point out with regards to their visuals is that TouchWiz sticks with a somewhat darker color theme, which is to be expected, having in mind that it's running on a phone with an AMOLED screen. Meanwhile, LG has gone for a brighter UI that also tries to be somewhat mature-looking (not overly jolly and colorful).

In terms of functionality, both handsets are choke-full of features and settings. Among the notable assets of the Galaxy S5 are its Ultra power saving mode, various Air gestures, and My Magazine news aggregator, while the G3 counters that with its own arsenal including the Smart Notice assistant, QSlide, and Smart keyboard. Obviously, there's something unique with both devices, as well as some shared functionality. Which type of experience appeals to you more: the LG one or the Samsung one?








Camera
In terms of camera app options, the Galaxy S5 is the one to provide users with numerous settings, while the LG G3 stays relatively clean in this respect. Of course, one can always get more flexibility with a third-party app. At the end of the day, it's the quality of the images that's going to matter!
Sample Images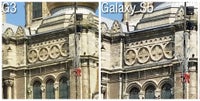 Dropped your votes in all the polls above? Cool! Voting will be closed on Tuesday, July 29, and we'll analyze
the results
on Wednesday, so stay tuned! In the meantime, be sure to let us know what you think about this face-off in the comments below!