RIM and Palm were once targeted for purchase by Oracle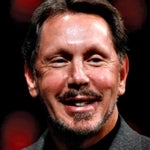 During Oracle's current trial against Google, the CEO of the former, Larry Ellison, revealed that his company
once targeted both RIM and Palm for acquisition
. According to the brash and outspoken executive, the goal of the database software developer was to become more competitive with Apple and Google. After studying the idea of producing its own smartphone and working out a cost and market analysis, Oracle decided against manufacturing its own handset, saying that it would be a "
bad idea
."
Palm had seemingly struck gold when
it introduced the Palm Pre and the webOS software at CES in 2009
. Immediately declared the heir apparent to the Apple iPhone, lack of a cohesive marketing plan and a fully stocked application store were some of the reasons for
the failure of the device to take off
. A few months after its launch via Sprint, the DROID Invasion started with the appearance of the Motorola DROID with Android 2.0 and the Pre never recovered. Eventually,
HP purchased Palm
and gave up (at least for now)
producing webOS enabled hardware
.
well behind when it comes to features on its handsets
. With expectations that the Canadian based manufacturer will lose money selling hardware in the current quarter for the first time ever, former co-CEO Jim Balsillie's idea to offer
BlackBerry's Internet Service and BlackBerry Messenger to carriers for use on third party handsets
was shot down by RIM's board and by new CEO Thorsten Heins. Instead,
RIM has hired a pair of Investment Banks to come up with some strategic options for the company
. RIM's new
BlackBerry 10 OS is expected to be launched on a new smartphone
sometime later this year. Recently, both
Microsoft
and
Samsung
have been linked to rumors about a buy out of RIM.
Oracle is suing Google about the latter's use of Java and other patented technology in Android. The battle between the two
dates back all the way to August 2010
when Oracle filed the suit.
source:
Reuters