Microsoft may be looking to invest $3.5B in RIM
23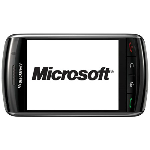 It's time for the monthly rumor that some giant tech company is going to buy out/invest in RIM. This time the lucky company would be Microsoft, which is now being reported to be interested in investing up to $3.5 billion in the failing Canadian company. Color us very skeptical.
Financial site Benzinga has said that Microsoft may be interested in making a $3.5 billion investment in RIM. This would be an investment worth more than half of RIM as a whole, which currently has a market cap of $6.85B. If the deal goes through, it would seem likely that Microsoft would acquire a controlling interest in RIM.
The problem is: why in the world would Microsoft do this? RIM is in a free-fall right now. The company is
losing a lot of money
,
executives are jumping ship
, and the company doesn't really have much by way of valuable assets. Microsoft has no need for a hardware department that is
losing money
, nor does Microsoft need any of the software made by RIM with the possible exception of BBM, which is not worth nearly that much money. It's possible that Microsoft would want to buy up some of RIM's patent portfolio, and it's likely that RIM does own some valuable patents, but $3.5 billion still seems like a pretty steep price.
We could certainly believe that Thorsten Heins made a call to Microsoft inquiring about an investment like this, but it doesn't make a whole lot of sense from the Microsoft side of the equation.