Report: Why Jim Balsillie quit RIM
9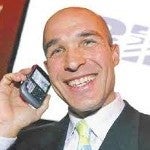 Former RIM co-CEO Jim Balsillie resigned as a director of the Canadian tech company on March 29th,
the day the company reported a whopping $125 million fourth quarter loss
. According to Reuters, Balsillie's departure had to do with a huge shift in strategy that he had proposed which was turned down by the board and by new CEO Thorsten Heins. Balsillie's plan called for
RIM to allow non BlackBerry devices to use its proprietary network
, a major shift from the BlackBerry-only strategy employed by RIM since it opened for business.
The carriers would be involved in this strategy, using the RIM network to sell low-priced data plans to allow smartphones as a way to connect to social media and Instant Messaging. The idea would be to get those using featurephones to switch to smartphones. Customers who use their handsets for talking and texting could have been persuaded by carriers to
upgrade to an entry-level smartphone plan provided by RIM
. The plan would offer limited access to social media sites like
Twitter and Facebook, and
let users
send messages via BlackBerry Messenger. BBM is such a highly thought of service that some BlackBerry users purchased their Berry just for the right to use the service.
Balsillie's talks with carriers led to problems within RIM and he resigned as a director although he still owns 5% of the company. Like all stockholders of RIM, the value of Balsillie's holdings
have plunged 80% over the last 14 months
.
The plan devised by the former co-CEO is similar to a service
already offered by RIM in some emerging markets
, but through BlackBerry handsets only. This basic offering gives users limited access to a few popular internet and social media sites while being priced lower than the data plans for other platforms. One source for
Reuters
says that RIM was working on developing software that would allow
Android and iOS users to connect to this basic plan
and was taking a hard look at offering this service globally.
Reuters
to be talking to
Verizon and AT&T in the U.S.
and
Vodafone, Deutsche Telecom, Telefonica and France Telecom in Europe
. One Canadian carrier was said to have been involved.
Balsillie's plan would have put the spotlight on the company's network services which has revenue of about $1 billion each quarter, and is a high-margin business. This is quite distinct from RIM's hardware business,
which is expected to lose money this year for the first time ever
despite selling more than 50 million handsets. According to research firm IDC, of the 1.55 billion mobile phones shipped last year, less than 33% were smartphones and of that total, only 51 million were BlackBerry models. If RIM can hold on, there is some potential upside ahead. By 2016, IDC sees 2.17 billion mobile phones being shipped, half of which will be smartphones. If RIM can sell its services to a small percentage of those new smartphone users while keeping its current customers, the company could recaptures some of its past success.
Before any shift in strategy is implemented, current CEO Heins wants to see how the market reacts to
RIM's next-generation of BlackBerry 10 phones
. Based on the QNX OS used in the BlackBerry PlayBook tablet, the new OS could be RIM's last chance to compete with iOS and Android in its current form. The phones
are due out later this year
. Heins had
seemed open to licensing the OS
as recently as last month, but the plans still call for RIM to
launch at least one new BB 10 handset
.
Over the last few years, rumors about another tech company taking a run at RIM have surfaced. The latest was reported yesterday when
speculation arose that Microsoft was interested in the Canadian manufacturer
.
source:
Reuters