RIM cancelled BlackBerry Colt, Milan, working on only one BlackBerry 10 device?
10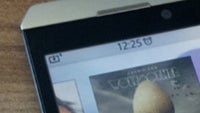 If trouble for RIM wasn't enough after it announced that it's BlackBerry 10 devices will get delayed and released only in late 2012, it now turns out that devices might be a bit exaggerated - the company is rumored to have slashed all development to a single device. And here's when you can wave goodbye to the
BlackBerry Colt
and
Milan
.
The Colt has reportedly been cancelled and the Milan that just leaked out last month was never planned as a QNX BlackBerry 10 handset, but only as a BlackBerry 7 device, according to BGR's various sources. Carriers have reportedly revolted against selling another BB 7 handset so similar to the Torch and that might have been the reason for the cancellation.
When it comes to the BlackBerry London, it's still being negotiated with carriers, but it's said to have changed a little in terms of design. Finally, reportedly when Porsche representatives showed up at RIM's offices to check on the progress made on the design of the Porshe BlackBerry 9900, they said
"it was a complete disaster."
Now, we'd take this with a grain of salt - it's nothing but a rumor so far, but BGR has been often spot on with BlackBerry news in the past so it's possible. Does a single QNX phone release for RIM rings positive or negative prospects for the Canadian company? Weigh on the issue in the comments below.