Phone Shopping Guide - Holidays 2007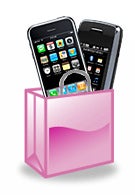 Always in a hurry, you cannot stop thinking about your work. When you are out of the office, you still must have the same functionality – the email is always in your pocket, thanks to the powerful phone. You'll rarely get non-smart phone, and it will definitely be a high-end model with advanced email client and internet browser and hopefully full QWERTY keyboard.


You're wondering how people could use the plain and ugly phones on the market. The phone you use stands out of the crowd by its award-winning design, high-quality materials and most often is characterized by the slim profile and the expensive price, just as any boutique stock.


With the technology evolvement, the phones are trying to replace other devices in the every-day usage. The pocket cameras are the target of the high-end cameraphones, and you may use one to capture any special moment. As the phone is always with you, you will not miss the opportunity to take picture of something important.



Since the digital music formats were introduced to the world, we are seeing the miniaturization of the audio gadgets and now a player with more than thousand tracks can fit in normal-sized phone. Now everybody can wear a pocket music player, and you, the mello-man can hardly miss the chance to listen to your track-library on the go.


You don't really see reason of spending a fortune on a mobile phone, especially when there are decent devices at low price. Often, last-season's top phones are in this price-range, which often makes them a bargain.