Samsung Juke Review
11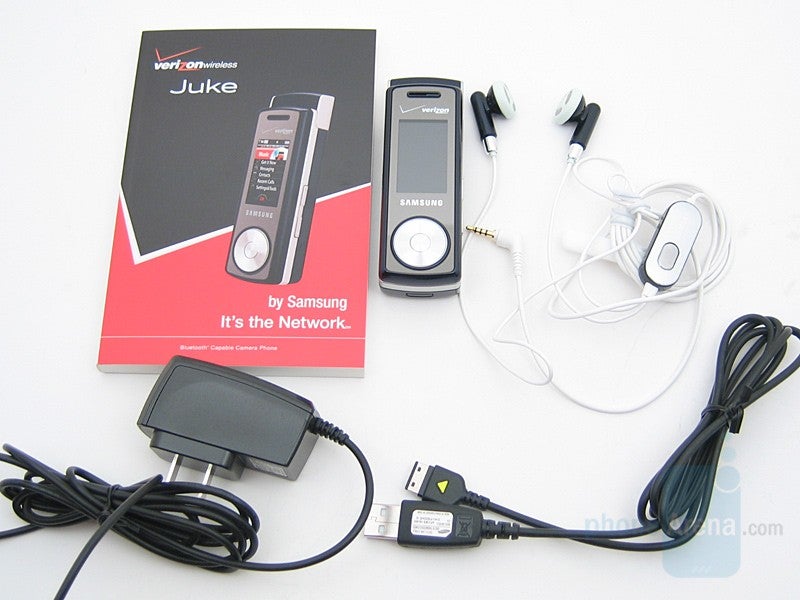 Introduction:
Several weeks ago
Verizon launched its "Next"
web site, where it showcased 4 new upcoming phones to be released; the first of which is the Samsung Juke U470. The Juke is a relatively inexpensive device, and is unique, due to the swivel display and 2GB of internal memory. Its main competition at this price-point (as far as other Verizon phones) are the LG Chocolate VX8550 and the Motorola KRZR, but its also competing agents dedicated Music Players, such as the iPod Nano which is available with up to 8GB of internal memory.
It is no doubt that Verizon is targeting this phone to the "under 20" crowd, due to the low price-point, three color options (teal, red, and blue), internal memory used for storing music, and its small form factor.
The Retail Package includes the Juke U470 phone, 750mAh Battery, Wall Charger, USB Data Cable, Wired Stereo Earbuds, and User Manual.
Design:
The Juke has a unique design, unlike any other Verizon phone, where you flick it open by pressing on the side of the display. This rotates the display 180 degrees and reveals the keypad that is hidden when closed. On the left side is the Volume rocker, and on the right side is the 2.5mm headset jack, data/charging port, and sliding lock button. Located on the back is the speaker and low quality VGA camera. The overall construction of the Juke is out of plastic, but feels well made and should hold up to normal everyday use.
PhoneArena's Video Review of Samsung Juke:




The display
is rather small, measuring only 1.45" diagonal and has a resolution of 128x220 pixels at 262K colors. Despite its small size, we were easily able to view menus and settings without any problem, but it is still a far cry from the QVGA displays that we have become a custom to. The silver circular navigational wheel is similar to the one currently used on the LG Chocolate VX8550. You can use your thumb to rotate it in either direction, press the top/bottom/left/right as navigation, and press the center (OK) button to choose your selection. We had no problems operating it, as it is relatively simple to use and has good menu response. The narrow keypad features a mirror-like finish with white backlighting. We first thought that using a small keypad would pose problems, but we actually found that the size worked well with dialing numbers and sending text messages. The only two issues that we had is that the surface of the keypad is entirely smooth, which makes dialing by touch-alone imposable, and the mirror finish makes it hard to see while in direct sunlight. We would think that a keypad matching the color of the phone (teal, red, or blue) would be a better choice.
| | | | | |
| --- | --- | --- | --- | --- |
| Model | Dimension (Inches) | Dimension (mm) | Weight (oz) | Weight (Gramms) |
| Samsung Juke | 3.80" x 1.20" x 0.80" | 97 x 30 x 21 | 2.80 | 80 |
| LG Chocolate VX8550 | 3.90" x 1.90" x 0.70" | 98 x 47.5 x 17 | 3.20 | 92 |
| Motorola KRZR K1m | 4.05" x 1.73" x 0.66" | 103 x 44 x 17 | 3.60 | 102 |
| Apple iPod Nano | 2.75" x 2.06" x 0.26" | 70 x 52 x 6.60 | 1.74 | 49 |