Motorola RAZR2 V9m Verizon Review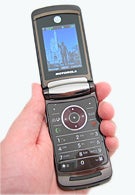 The Motorola Razr2 V9m is the newest addition to the popular Razr line for Verizon, which is also being sold by Sprint, Alltel, and US Cellular. Other variations include the HSDPA V9 for AT&T and GSM V8 for T-Mobile. The Razr2 is a completely new design, with aspects taken from the original Razr V3, Krzr, and Maxx Ve. The V9m is designed to give an emotional response from the consumer, with its large external display, fashionable high-luster stainless steal construction, and super thin body. Despite the phone being quite stylish, we felt that Motorola spent too much time on the "look" of the phone and not enough time on the "features". Because of this, we believe the V9m to be only a slight upgrade from the Maxx Ve.

The Retail Package includes the Razr2 V9m Phone, 770 mAh Battery, Wall Charger, 2.5mm-to-MicroUSB Adapter, and User Manual.