Apple eyeing to purchase BOKU, ramping up mobile payment project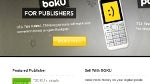 Apple's intentions to enter the mobile payment universe with the iPhone are getting clearer by the day. After
trials
in Hong Kong, involving NFC-enabled iPhone,
hiring a contactless payment guru
, and
talking with Gemalto
on an Open SIM card with mobile payments chip, Apple is now targeting BOKU for a nine-figure transaction.
The startup has agreements with multiple carriers worldwide, including all US ones, and recently was chosen as one of AT&T's partners for its
own mobile wallet endeavor
. The premise is simple - you enter your phone number on checkout, and receive a text message to confirm the transaction, which then piles up to your monthly bill. Google is also reported to have its eye on BOKU, a tribute to the viability of the company's approach to the complicated matter of mobile payments.
For all we know, with next year's iPhone you might be able to pay for that Big Mac, enter the metro, or be granted access to work by just waving your handset. What we are curious about, though, is how will your lost or stolen phone be blocked, if you don't have it to call the emergency number, but we are sure the braniacs have thought about this already.
For a more in-depth overview of mobile payment systems in the US and abroad,
read our article
on the mobile wallet.
source:
Macrumors
Recommended Stories