Visa is planning on a vast NFC-based mobile payment network
4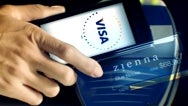 Visa is planning to unveil one of the largest
NFC-powered mobile payment systems
ever attempted. It is still unclear if merchants will have to pay for NFC on top of the existing commissions for payment processing that Visa is charging.
With 1.8 billion Visa cards out there, and its brand recognition, the payment processing company just became the most formidable opponent in the mobile payments scramble. No wonder now that the US carriers toned down the plans for their own
mobile payment system, called ISIS
, considering that MasterCard also announced it plans to start paying attention to NFC payments.
What Visa will be starting, is based on NFC, so any phone or tablet with this chip will be able to take advantage of it. Fourteen banks and other financial institutions in the US and Canada, among which are US Bank and TD Group, will be partners in the pilot program. Visa hopes to use the leverage of its 30 million points-of-sale systems worldwide to convince merchants in adopting NFC payments as well.
The company already has pilots rolling in New York with its
payWave mobile phone payments system
, and also plans to work with the existing NFC payment projects, like ISIS. Visa's NFC system is supposed to start appearing at POS terminals as soon as this fall.
source:
Computerworld