Meet the 10 most impressive smartphones we've reviewed in 2015 so far
99+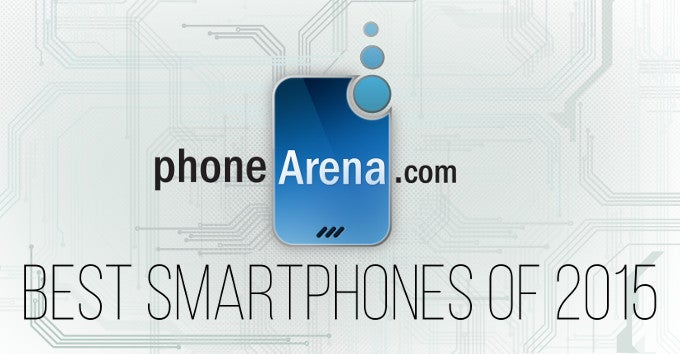 Few years in recent history have been as plentiful as 2015 when it comes to major releases, with dozens upon dozens of truly admirable devices making their way to the market before ending up in users' hands. From Samsung through Apple, Motorola through LG, the full list of notable 2015 smartphones is almost complete. In fact, save for Microsoft's new Lumia 950 and 950 XL and Sony's Xperia Z5 lineup, it seems like 2015 is pretty much closed for business now.
This gives us a rare respite, and an opportunity to once again highlight and give a nod of approval to a select number of smartphones that not only satisfied the recommended requirements of our review process, but in fact emerged out of it with flying colors. Flagship-level or not, it's not every day that we rate devices at 9 stars out of 10 or above. So if you're looking to treat yourself to a Christmas present, these would be among our top recommendations.
Let's get this started going from least (relatively speaking) to most impressive!
Another year, and another great LG flagship. The G4, like the G3 before it, proved a meaningful successor and a competent all-round device that excels in areas such as camera performance, whilst delivering extras like a vegetable-tanned leather back, a microSD card slot, and a removable battery. Sure, we later found out that the leather covers aren't particularly well suited for life in the real world, but that's sometimes the price of style.
Of course, not everything is great with the G4, with its average battery life being a top concern, though we wouldn't have said no to a better calibrated display, either. Still, as mentioned, and especially at the price LG is selling those nowadays, it's one of the year's most solid smartphones.

Well, what do you know, we have an outsider in our top 10! The Meizu m2 note is doubly interesting, as while the Chinese company's flagship scored poorly overall, this budget phablet proves a great bang for your buck!
Indeed, starting with an excellent screen that tops out at over 500 nits and a good-looking and well-crafted body, through speedy performance and great camera and battery life, down to the salivating price tag, the m2 note is one of the greatest offers of the year. For the sake of objectivity, we should add that not all is well with Meizu's value phablet, with software niggles being the most infuriating of problems. Hopefully, Meizu has had time enough to iron these out by now.

Meizu isn't the only company to land an affordable, but high quality product this year, not so long as Motorola has anything to say about it anyway. With the Moto G (2015), the company reaffirmed its leading position as the meanest low-cost player in town — at least when talking about mainstream, global brands. That's good to see, and proves wrong the naysayers that predicted that Lenovo's ownership of the exalted maker would bring quality down. Not at all, judging by the latest Moto G.
There are quite a few things to like about this budget beast, starting with its water resistance, wealth of customization options courtesy of Moto Maker, and near stock Android experience. While the Moto G won't win any races any time soon, it nevertheless proved to be a snappy performer that rarely experiences lag, and one that can go on and on and on. All of that, for just $180 (as of July)? Impossible to beat, as it turns out.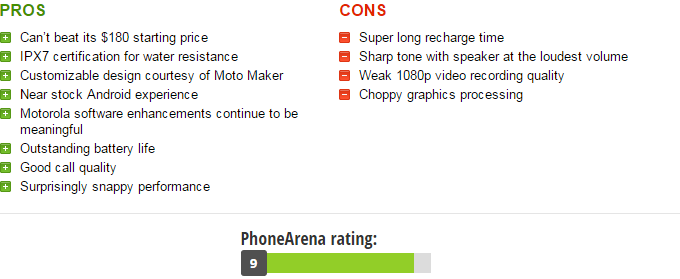 The public's seemingly favorite phablet, the Samsung Galaxy Note 5 proved that when it comes to big-screened smartphones, the South Korean giant still got it. Taking inspiration from its smaller brother, the Galaxy S6, the Note 5 is the first in the line to really class it up with a fusion between glass and metal.
The Note 5 is not just a pretty face, though — far from it — and offers a better S Pen than ever, along with a camera to-die-for and one marathoner of a battery. That's not all — we're also treated to a snappier version of the company's proprietary TouchWiz interface, a
significantly
improved fingerprint scanner, and better general performance than ever. On the off side, Samsung did sacrifice part of its identity by ditching the signature microSD card slot and removable battery of devices past — much to the dismay of fans. And that glamorous glass on the back sure is one nasty fingerprint magnet. Still, on the whole, few devices have gone through as much polish as the Note 5.

Depending on where it is you call home, Motorola's 2015 flagship will be known to you either as the Moto X Pure (US) or Moto X Style (EU). For all intents and purposes, however, it's the same phone. And what a phone it is!
We gave the Moto X Pure a score of 9.1 out of 10 for its highly customizable, water-resistant design (thanks, Moto Maker!), excellent display, light, near-stock software overlay, and most of all: $400 outright price tag. For that kind of money, even those among us that would usually have to settle for a mid-ranger can experience a flagship-level device that disappoints in only a few areas — like battery life and graphics performance. Sure, the camera could've also been a little better, specifically in low light scenarios, but we can't complain much when Motorola undercuts other mainstream competitors by nearly a half.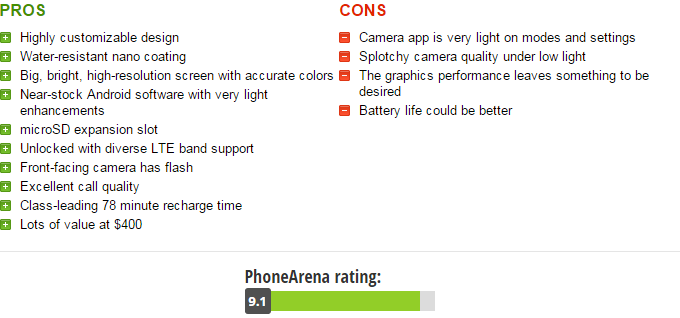 If you're looking for a device that's suitable for both work and play, your choice would typically be limited to lower end devices, or, alternatively, an investment into a fat and rugged case. But why would you want one of those when Samsung gives you both power
and
protection?
Indeed, the Galaxy S6 Active was among the most pleasant surprises of 2015, and we still feel its score is well-deserved. Sure, the design of the thing isn't exactly conventional, but it has its appeal, especially considering the body of the phone is water- and shock-resistant. Add to that an amazing camera and one of the longest-lasting batteries we've ever tested, and you can see why we gave the Galaxy S6 Active a score of 9.2 out of 10.

Whatever your Android friends might say, Apple delivered with the iPhone 6s Plus with the unprecedented number of improvements it managed to pack into what should've been yet another, comparatively dull, mid-cycle upgrade. From the innovative 3D Touch screen that can recognize a light from a strong tap adding another layer of functionality, through the often underestimated appeal of Live Photos, down to the much stronger, 7000-series aluminum used with the body and crazy-powerful A9 chipset, the 6s Plus is among the very best money can buy in the phablet segment.
What we didn't like? Its weight, the fact that the base option is still just 16 gigabytes, and the lack of more meaningful, custom-tailored phablet features in iOS 9. The rest, however? Just peachy.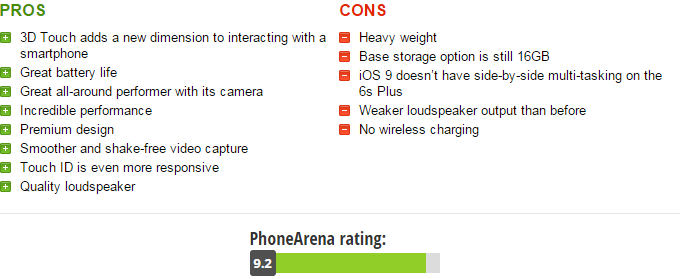 Well, what do you know! We have three whole devices matched for the number one spot this year, and it should come across as no surprise that they call Apple or Samsung their maker.
With Apple, we've got the iPhone 6s, which we still consider to be slightly superior to its bigger brother, the 6s Plus, despite the two offering a nearly identical package, sans display real estate. On the Samsung front, we were quite impressed by Samsung and the culmination of its long-rumored Project Zero, which gave us the Galaxy S6, but also the even more extravagant Galaxy S6 edge. While we can't claim that the latter's dual-curved display offers much in the way of meaningful functionality, we do like the way it rounds up the design of the phone, which, by the way, looks better than any previous Galaxy S line device. Here's what we liked and disliked about each in turn: