LeEco Le Pro 3 teaser takes a shot at Apple and confirms September 21st unveiling
32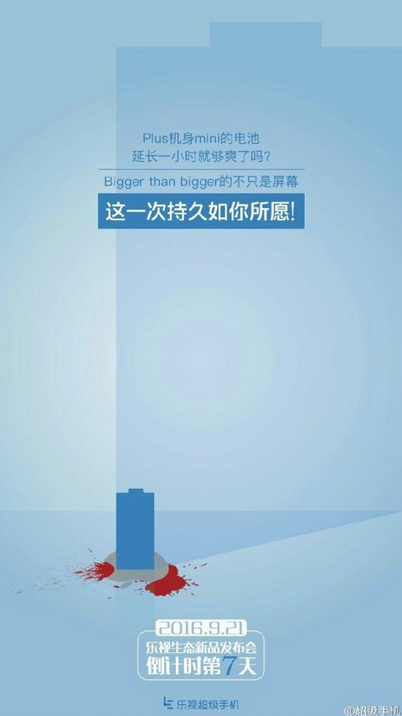 LeEco teases the battery life on its beastly Le Pro 3
The other day, we told you that the LeEco Le Pro 3 would be offered in two variants;
one will feature 6GB of RAM, while the other will carry 8GB of the stuff
. Yes, this is a monster of a phone, which was confirmed
by the score of 163,546 that it tallied on AnTuTu
.
The Le Pro 3 will also carry a massive 5000mAh battery
, according to a previous rumor.
As it turns out, a teaser for the LeEco Le Pro 3 surfaced today, and the subject of the promotional image is the phone's battery which LeEco says is "Bigger than bigger." We know that the teaser is all about the battery because of the shadowy image of a cell in the background. The teaser also shows a battery that apparently fell from the sky and landed on the Apple logo, leaving a blood stained floor. That would seem to indicate that the battery life on the Le Pro 3 will 'kill' the battery life on the
Apple iPhone 7
and
Apple iPhone 7 Plus
.
If it were for any other manufacturer, we'd say that the use of the Apple logo in this manner would indicate that the teaser is a fake. But back when LeEco was LeTV,
it released a teaser that compared Apple to Hitler
.
The new teaser shows that the LeEco Le Pro 3 will be unveiled on September 21st. On that date, you better lock your windows and doors, and don't let the kids out of your sight. A new Android monster will be on the loose.
source:
Playfuldroid