LeEco's monster Le Pro 3 checks through AnTuTu with a score of 163,546
28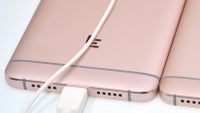 Chinese manufacturer LeEco is apparently looking to
court the Stateside market this year
, and an ultra-powerful flagship — the likes of which could score over
150,0000 on AnTuTu
— wouldn't be the worst way
to make a big splash
. Today, a new AnTuTu screenshot appears to offer more flavor of things to come, with an unreleased LeEco device having seemingly managed a score of 163,546.
This particular handset is said to be called the LeEco Le Pro 3, which slightly differs from the purported Le Pro 2S referenced previously. Both seem similarly equipped — Qualcomm's Snapdragon 821 system-on-chip is set to be deployed — so we're going to assume that Le Pro 2S and this new Le Pro 3 are either the same, or slight variations of the same device.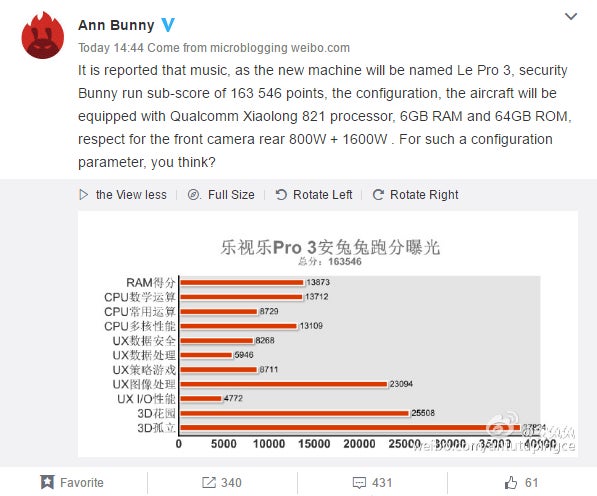 There is, of course, no way to verify the legitimacy of the AnTuTu screenshot, which has surfaced through Chinese microblogging service Weibo. The accompanying notes mention 6 GB of RAM, where the it has been said that LeEco could opt for a whopping 8 gigs of the stuff. It's hard to argue the case for so much RAM in a smartphone, and many will deem such vast quantities to be overkill. Nevertheless, if these AnTuTu benchmarks haven't been tampered with, the LeEco Le Pro 2S/3 will be difficult to ignore.
As you'll see, the device is expected to bundle 64 GB of on-board storage, while a 16-megapixel main shooter is set to accompany an 8-megapixel snapper to the front.
LeEco is expected to take the wraps off the device at some point next month, though it's unknown how much it will cost, or precisely which markets it will hit. Still, with September fast approaching, we probably won't have to wait long to discover the details of this mysterious beast.

[/SLIDESHOW]
Recommended Stories