Instagram ads will look like this
6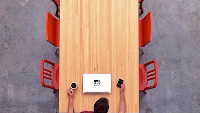 With Facebook looking to monetize Instagram, we told you earlier this month to
start expecting to see ads soon on the picture-sharing social network
. At the time, Instagram said that the ads would start with high-quality pictures from a small number of brands that already use the Instagram site. To make sure that there is no mistake between what is and what isn't an ad, the word "sponsored" with an icon showing a white arrow in a blue design, will appear in the upper right corner of a paid ad. And you will be able to hide certain ads you don't like by pressing the "..." button, which also allows you to provide feedback on why you might not like a particular ad.
Instagram also put up a Q&A to remind subscribers that the site does not own pictures taken by you, the account holder. That was
the controversy at the center of the ToS change
that the site made late last year. Instagram did say that to determine which ads you are more likely to respond to, it will look at the people you follow on the site as well as pictures and videos you like. In addition, the interests you list on Facebook will also help determine what ads you see on Instagram.
The first ad is actually one created for Instagram itself which you can find in the slideshow below.
Facebook originally paid $1 billion in stock for Instagram
, a price that dropped when the value of Facebook's shares declined. Still, the purchase cost in excess of $700 million which is a lot of ad money that Instagram needs to produce to justify its purchase by Facebook.
source: Instagram
(1)
, (
2
) via
Phandroid