How to find new Android apps made by Microsoft
12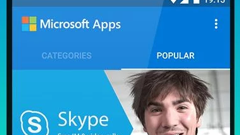 Have you noticed that Microsoft is continuously developing new (and often great)
apps for Android
? At the moment, there are over 80 Microsoft-made apps on Google Play, and the number is steadily growing. While many of these applications were originally available on Windows, some have been developed exclusively for Android - including the recently released
Kaizala
and
Mimicker Alarm
, or the slightly older
Next lock screen
and
Arrow Launcher
.
But what can you do if you want to check out the newest Android apps from Microsoft as soon as possible? Well, there's actually an(other) app for that, and it's called...
Microsoft Apps
. Available to download for free from Google Play - see the source link at the end of this article - Microsoft Apps features two main tabs: Popular, which includes the company's most famous (thus already launched) Android apps, and Categories. In the Categories tab, you'll find virtually all of Microsoft's Android apps, obviously divided into specific categories. Also in this tab you'll discover a "New" section, which has its own two sub-tabs: New Updates (listing the most recently updated apps - including change logs), and New Apps - that's what you need to check if you're looking for the very latest Android apps made by Microsoft. The New Apps tab is updated weekly, which means Microsoft plans to churn out Android applications quite frequently. Of course, you'll probably not see fresh apps on a weekly basis, but at least you know where to look for them.
Whenever you find an application within Microsoft Apps (be it new, or already released), you can tap on it to visit its Google Play page, from where you can download it to your device.
Download Microsoft Apps
(free)