Microsoft on Android: here are the coolest, unique, and useful Microsoft apps that are out right now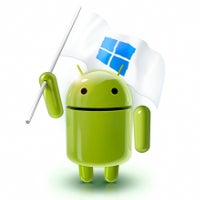 Microsoft has been fighting for a steady ground on the mobile market for quite a while now with its own operating system — one that we've known as Windows Phone, then Windows Mobile, and now, just Windows 10. While handsets touting the Microsoft logo do have a number of devout fans who enjoy the unique approach to the user experience and the integration with Windows on their PCs, Microsoft still has a pretty small piece of the smartphone market pie – around 3%.
Interestingly, instead of using its resources to create platform-exclusive software, which may attract or lock customers in to using Windows phones over its competitors, Microsoft has instead put some effort towards publishing a lot of its apps for Android and iOS, providing its services to all users. And since Android has a more open nature, it also tends to get some cool and unique apps, especially in the form of lock screens or home screens. We dug up 10 of these that have mostly launched in the past year. Check them out below, they are all free, and they are certainly worth keeping on one's phone!