You can now download the Microsoft Arrow Launcher for Android from Google Play
11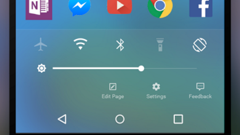 If
Nokia has an Android launcher
, why shouldn't Microsoft have one, too? Meet Arrow Launcher, the latest Microsoft product that's been specifically developed for Android. Initially
available as a closed beta
, Arrow Launcher can now be downloaded by everyone via Google Play (and, of course, it's completely free).
Presented as a "simple, personal launcher", Microsoft Arrow aims to simplify the Android experience by learning users' habits. The launcher arranges your apps based on how often they're used, and lets you quickly find "the people who matter the most to you." It also comes with integrated reminders, a Recent tab (containing recent apps, photos, downloads, and even dropped calls), a People Management feature, widget and third party icon pack support, a customizable dock, and custom wallpapers. While it's available to users all around the world, at the moment Arrow supports just two languages: English and Chinese (Traditional and Simplified).
We didn't get the chance to actually test Microsoft's Arrow Launcher on any of our Android devices, but perhaps we'll do it soon. Until then, let us know if you're willing to try it, okay?
source:
Google Play