HTC One M9 videos are real says former HTC product manager Momii
58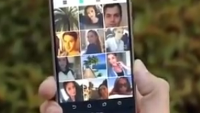 On Tuesday afternoon, we passed along
a couple of videos that starred the unannounced HTC One M9
. The first was an apparent commercial that focused on the phone's 20MP rear-facing camera. The other video was a video promo for HTC's upcoming new flagship model. The very first thing that everyone saw was a phone that really resembled the current flagship model, the
HTC One (M8)
. The back of the phone was different as the Duo Camera was gone, and the bezels have been reduced. But the overall look and feel remained the same.
The uproar that followed the leaked videos was somewhat held back by the hope from many that the videos were fake. After all, HTC did say recently
that it was using decoys to trick the public and the media
. But that hope was shot down on Tuesday when a tweet from former HTC product manager Leigh Momii seemed to confirm the authenticity of the video images. "
the whole cat is out of the bag
," she wrote, "
no surprise there
." She added that she would probably get the gun metal version of the
HTC One M9
. Momii, by the way,
now works for Cyanogen
.
So there it is guys. Of course, if you want to keep up the charade, you could say that Momii was helping her former employer with its decoy plans by sending out the tweet. But that is pretty far-fetched, especially since the HTC One M9 in the videos
resembled renders that we showed you earlier on Tuesday
. The jig, as they say on those cliche filled cop shows, is up.
Now this doesn't mean that HTC doesn't have some surprises up its sleeves. A tweet sent out Tuesday by HTC's Senior Global Online Communications Manager Jeff Gordon, said that the best parts of the company's March 1st new product event
are the parts we have no idea about
. That presumably includes the
HTC One M9 Plus
.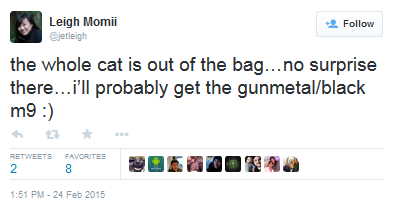 Former HTC product manager Momii says the images on the leaked HTC One M9 videos are real
Thanks for the tip!
source:
@jetleigh