Samsung Galaxy S9/S9+ invite hints at super slow-mo, creamy bokeh, and a possible color variant
10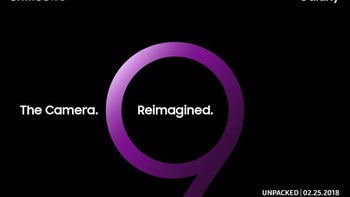 In case you missed it,
Samsung's official announcement invitation
for the Galaxy S9 and S9+ arrived with a band yesterday, confirming that the next big things will become official on February 25. That's just a day before
MWC 2018
starts and falls 100% with our predictions and expectations.
As it's blatantly obvious from the invitation, the
Galaxy S9
and
Galaxy S9+
will be aiming to
"reimagine the camera"
experience and we think we have a pretty good understanding of how Samsung will tackle this issue. We expect the Galaxy S9 to flaunt a single rear camera with a variable aperture that's able to switch between F/1.5-F/2.4 depending on the shooting scenario, while the Galaxy S9+ will build on that with an additional camera at the rear.
Of course, this super-wide aperture of F/1.5 means that out-of-focus areas will be beautifully blurred and have more aesthetically-pleasing bokeh. What's more, Samsung's new tri-stacked ISOCELL camera sensor which would likely land on the new Galaxies could deliver a rather cool new feature - 480fps slo-mo video recording at 1080p Full HD resolution and probably short bursts of 960fps slo-mo at 720p HD resolution. So far, only Sony has employed such a feature on some of its Xperia devices, but it merely used a dual-stacked sensor and the outcome was half-baked and unintuitive at best.
So, does the invitation hint at any of these rumors being real? Actually it has three hidden hints inside:
While the still image one tells nothing, Samsung actually posted a short animated version on Twitter, which shows a bunch of dandelion seeds slowly being carried by a gust of wind and drawing the number 9, which then slowly goes out of focus and blurs beautifully. Hence, it could be realistically speculated that the flying dandelion seeds are a dead giveaway for the super slo-mo capabilities of the Galaxy S9/S9+, because let's face it, blowing at the seeds of this weed and capturing the act on camera would almost always yield cool slo-mo results.
Furthermore, the slow fading out of focus of the number 9 is hinting at the creamy bokeh-rendering traits of the upcoming flagships courtesy of the widest end of the variable aperture, which should make portrait shots that much appealing.
Finally, we 'd speculate that the beautiful and deep purple color of the 9 could be a hint that the Galaxies could be available in this vibrant color option. The Galaxy S8 and S8+ also came in a somewhat similar shade of violet, dubbed Orchid Grey, but it was way more muted and inconspicuous than this one.
Of course, those two are merely educated speculations, so don't take them for written in stone. Yet, the evidence is there and knowing that Samsung loves dropping teasers and hints in its product announcement invitations, we have a feeling we are on the right path with our expectations.

As usual, rest assured we will keep you posted on anything Galaxy S9/S9+-related should we stumble upon it.