Exploding Galaxy Note 7 put to good use as GTA V sticky bomb mod
40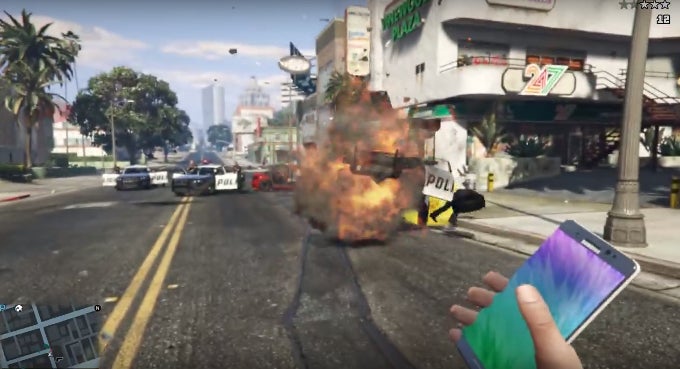 Samsung appears now to be
coming through the worst
of its
Galaxy Note 7 recall
. With many potentially faulty handsets having been replaced or refunded and belated launches set to take place far and wide,
the signs are finally starting to look encouraging
. Still, this is the internet, and like
Windows Vista
,
Apple Maps
and the myriad other tech failures of recent times, the Note 7 will probably go down in internet folklore for its weakness,
rather than its many strengths
. In one recent clip uploaded to YouTube, the Galaxy Note 7's explosive tendencies are put to good use with a Grand Theft Auto V mod, where the device doubles up as a sticky bomb.
The clip begins with a visit to the weapons store, where all manner of armory is available to purchase. In the cabinet beside some hefty looking guns sits the supposed
Galaxy Note 7
, though it does look more like the
Note 5
to our eyes. Once purchased,
Modded Games
demonstrates how the device can be used to cause all manner of carnage, and your typical GTA-style riot quickly ensues.
Though Samsung surely won't be laughing at this mod, at least real-life Note 7 owners affected by explosions and fires haven't seemingly come to any lasting harm. Jokes aside, this particular tech fail could easily have claimed lives, but despite
apparent damage to property
, it's not thought that anyone has been seriously hurt by a device packing
faulty SDI batteries
. Here's hoping Samsung can round up the remaining at-risk handsets without any more reported incidents.
Check out the rather amusing clip below, which we're giving the NSFW tag for the usual dose of GTA violence: