Apple iPad 3 to arrive in March, followed by iPad 4 in October to fend off the Windows 8 slates
37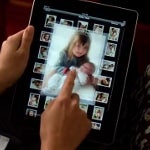 Those talkative "component supplier" sources that are always feeding ideas to Digitimes, are rearing their heads again with the grand scoop that Apple will be outing iPad 3 in March,
followed by an iPad 4 in October,
which, if true, will shorten the upgrade cycle to half a year.
Not that we didn't hear rumors last year that there will be an iPad 3 with higher display resolution in the fall, which never materialized, but the sources say iPad 4 is necessitated by the fact that the first Windows 8 slates will be arriving then, which is much more believable.
The iPad 3 is said to come with
QXGA (1,536x2,048 pixels) resolution
, which we've heard numerous times, and longer battery life. We've also heard rumors that the high resolution required
two LED light bars to be installed instead of one
, which had made the slate slightly thicker than the iPad 2, but on the other hand it seems more room for a battery has been made, if the claim for a longer-lasting juicer is to be believed. The main goal here is to introduce the iPad 3 at the current iPad 2 price, which will be
allegedly lowered to $399
, to battle the influx of affordable Android and other tablets.
The iPad 4, on the other hand, is said to receive not only a more impressive hardware upgrade than the iPad 3 (
quad-core A6
anyone?), but also to bank heavily on groundbreaking software side of things with some "
integrated applications
", whatever that means.