iPad 3 said to have upgrades to screen, camera and FaceTime
11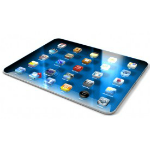 We were really tempted to add the "Obvious alert" tag to the title of this article, but because it has actual specifics related to some of the upgrades as well as another clue to the pricing structure for the iPad line, we decided against it. Of course, the obvious news of it is that the iPad 3 will have upgrades! That's not so surprising, it's what the upgrades will be that we care about.
Jeremy Horwitz from iLounge has been on the Twitter machine and has a few ideas about what the iPad 3 will include. The least likely of all of Jeremy's predictions is in the idea that the iPad 3 will have a "Retina Display". We've talked about this before, but the term keeps getting tossed around incorrectly, and it's something of a pet peeve of ours. The rumors have consistently held that the iPad 3 will have the same 9.7" display, but with a 2048x1536 resolution. That only adds up to 264 pixels per inch, which does not meet the "Retina Display" criteria.
The more believable bits of info from Jeremy Horwitz are to do with the cameras on the tablet. Horwitz says that the iPad 3 will feature the same 8 MP camera that we've seen on the iPhone 4S, as well as a front-facing camera capable of HD video, which means it would be a minimum of 1.3 MP. To go along with this front camera, Horwitz believes that Apple will also release FaceTime HD. More importantly though (since FaceTime still doesn't see much use) would be the video quality bump for Skype users on the iPad.
Additionally, Horwitz expects the iPad 3 to launch in March at $499, which seems about right. And, the theory continues to be that Apple will keep the iPad 2 on sale, but drop the price to $399, and possibly even $299, if there is an 8 GB model introduced.
source:
Jeremy Horwitz
via
BGR