Intel plans to fend off ARM with a Clover Trail chipset ready in time for Windows 8 tablets
7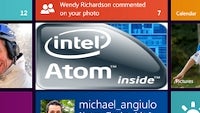 Intel leaked a bit of its future plans to battle the
ARM-based mobile chipsets
onslaught. It knows that it has mostly lost the battle, when it comes to iOS or Android, despite the
Honeycomb tablets with Oak Trail chipsets it demoed recently
, so the hopes are now pinned on its current stronghold - Windows.
Bill Kircos, Intel's director of product and technology media relations, revealed that an upcoming Atom Cloverview processor platform, called
Clover Trail
, will be introduced around the time
Windows 8
is ready for the mass market, which should be in the Spring of next year.
Windows 8 tablets will thus be able to take advantage of a faster and more power-efficient chipset from Intel than the current crop, since Clover Trail will be produced with the
32nm technology
. As a comparison, the current ARM-based Tegra 2 chipset, that is in most Android Honeycomb tablets, is done with the 40nm process, and Apple's A5 with the 45nm.
The die shrink means more transistors can be fit in the same place, or the same oomph derived from a much smaller footprint, resulting in better performance and battery life. A true system-on-a-chip, like those above based on ARM's designs, has much more to it than the manufacturing process, though, so we'll see what Intel has in store for Windows 8 tablets, and if it will be better than the ARM-based designs at the time, like the
quad-core NVIDIA Kal-El chipset
.
One advantage is certain for Intel, though - its chipsets are x86-based, which means that you will be able to
run legacy Windows programs on the Win 8 tablets with Intel inside
, unlike on those with ARM-based silicon, and that might make all the difference in the world, especially for enterprise customers. Next year it might turn out that the WinTel era is far from over, despite the claims that we live in a post-PC world.
source:
Thisismynext
Recommended Stories